Creating content can be difficult. Creating useful, well-crafted content that is user-centered and search engine friendly can sometimes seem nearly impossible. Fortunately, there are some tricks to content creation that can make creating high quantities of high quality content – and thus your life as a digital marketer – easier.
Whether you work for a marketing agency or you're responsible for creating content to market your own business, these 5 blog types will help you immensely with the content creation process!
1. FAQs
Sometimes choosing a topic can be the hardest part of creating content. One great way to quickly and easily decide on a great topic for a blog or featured content on your website is to answer questions that are frequently asked by your clients and potential customers.
When it comes to digital marketing, you want to make sure your content is providing valuable information that clients and potential customers are searching for. By answering the questions that you know these individuals are asking, you're proving yourself as a reliable, helpful resource, all while gaining brand recognition for your organization!
See an example of an FAQ blog post here:
2. Infographics and Videos
Even when it comes to content creation, sometimes a picture (or video) can be worth a thousand words. Though content marketing and blogging is often targeted at those who love to read, it's important to cater to the more visual learners as well. Creating a how-to video or including an infographic in your post to further clarify what you're writing about can be a great option.
Consider adding a little variety into your content marketing strategy by including infographics and videos in your posts or content from time to time. These posts are typically very engaging and informative, plus they are extra sharable since posts including images and videos tend to perform better on social media!
See an example of a video blog post here:
3. Checklists
As mentioned in my previous post about blog types that make content creation easier, list posts are a favorite among consumers – and copywriters! They are relatively easy to assemble and make information easily accessible to clients and potential customers.
Checklists combine the accessibility of list posts with the information consumers are hungry for – step by step instructions that will empower them to do something themselves! This hybrid list-DIY style is easy to create and is sure to be popular among the audience you are targeting.
See an example of a checklist blog post here: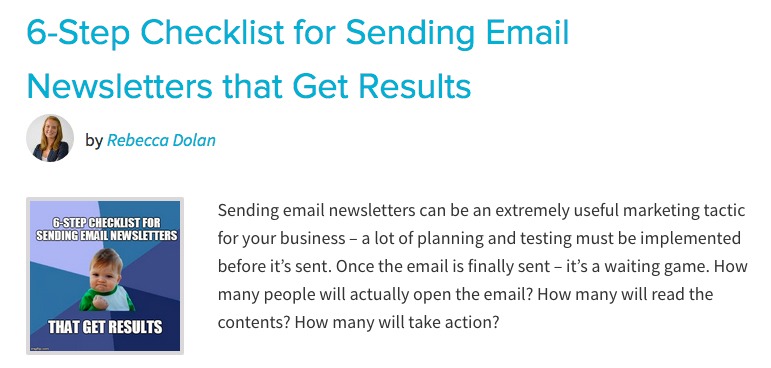 4. News and Updates
News and updates are quick, relevant posts that can help you establish yourself as an authority in your industry among your online audience. If you've heard about an upcoming change, a new product or a piece of information that will impact your clients and potential customers, share that information with them!
Though you may be sharing information that other sources have also provided, creating your own post gives you the ability to tailor your content to your specific audience. You can explain the change or news in verbiage that your clients and customers will understand and provide specific details about how your clients may be impacted by the change. In doing so, you will help your clients stay ahead of the game, establish yourself as a knowledgeable resource and demonstrate that you truly understand your clients and their needs.
See an example of a news and updates blog post here: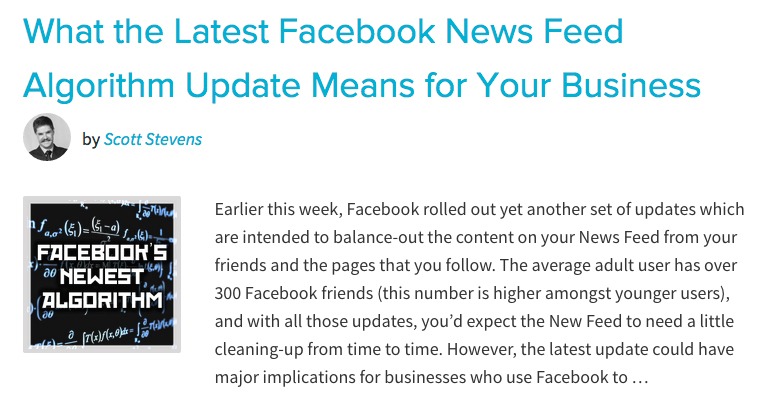 5. Reviews
In this day and age, third party reviews are incredibly important. Consumers no longer have to rely solely on product information and reviews provided by the companies that are selling or promoting them, which may be biased. Instead, they can browse the Internet to find reviews, product information and suggestions from other consumers who have used the product.
People typically want to make informed decisions and having easily accessible information at their fingertips helps them to do so. As a result, honest feedback about products and services is highly sought after content on the Internet. Joining this conversation by sharing your perspective can be a great way to both establish yourself as a reliable resource and trusted authority while gaining exposure for your organization.
While reviews make great content, it's important to keep in mind that review posts can be tricky at times. You want to be honest, but you don't want to create enemies, so you may want to think twice before posting an overtly negative review. Also, if you're receiving some form of compensation for providing a review for another company's product or service, be sure to disclose this information within the post. You want to be sure that you establish yourself as a trustworthy, knowledgeable and unbiased source of information!
See an example of a review blog post here:
Need Help with Content Creation for Your Business?
If you're a marketer who has sat in front of your computer screen staring at a blank page while trying to create content, you're not alone. Content creation is a tough, but necessary, element of digital and inbound marketing – but it can be a lot easier with a little help!
With years of experience, the digital marketing strategists at Mannix Marketing are skilled at developing relevant, search engine friendly content. We'll work with you to develop a customized content marketing strategy for your unique organization, then work alongside you to put that strategy into action.
Interested in enhancing your business' presence online? Contact Mannix Marketing today for more information about how we can help you with content creation and digital marketing!