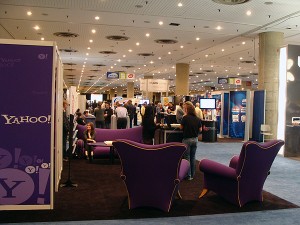 So. A few members of the Mannix Marketing SEO Team attended the Search Engine Expo East  in NYC. As part of my experience, I chose to attend the Bruce Clay SEO workshop on the day after the expo ended. I had mixed feelings about it – to be quite honest, I've seen Bruce Clay at nearly all the conferences I have attended, and the truth is that I was never very impressed. This guy, I thought, has gotten waaay too comfortable. The SEO masses practically genuflect when he walks in the room, yet I'd never heard anything that could even remotely be considered SEO pearls of wisdom dropping from his lips.  Sort of like "The Emperors New Clothes", if you will. He frequently talks about being in the business since 1996. Big deal. My internet marketing company, Mannix Marketing Inc., has been in the business since 1996 also.
The workshop was slated to end at around 5:30 pm. My train was scheduled to leave at 7:15, but I called to see if I could get an earlier one in case the workshop turned out to be what I figured – an over-produced advertising opportunity for a self-proclaimed 'SEO Rock Star' to give us the same information we've been getting forever and try to nickel and dime the attendees to buy everything from his SEO tools to Bruce Clay t-shirts.
From the moment this workshop started until the end, Bruce Clay shared his experience, insights, and knowledge of SEO from the most basic SEO strategies to the most complex details of what the Google algorithms are all about. The materials provided were expertly designed, he gave everyone copies of his book, "Search Engine Optimization for Dummies", and access to his comprehensive SEO tools. He taught, discussed, answered questions, and prodded the attendees to THINK during this entire workshop.
 Conclusion? In a word, awesome. I learned more during this 8-hour small-group session than I have at any conference I've been to. Make no mistake, this individual lives and breathes SEO. He is indeed a direct and valuable conduit between the industry (the 'users', if you will) to the gurus considered 'masters of the universe' who make decisions in the world of search engines.
 Needless to say, I took the late train. This was hands down the best SEO training experience I've ever had.  Sometimes it pays to suspend judgment pending further investigation!  Kudos to Bruce Clay, Inc. … I'm delighted to be able to share what I learned with my SEO clients!