In case you haven't logged into your Facebook business page account in a few days, we thought we'd let you know that changes are coming. Before you get upset because you're just getting used to how things are right now, let's take a look at each changed and what it can mean for your business. [Please note that you can opt in now for the changes to take hold, or wait until a forced roll in March.]
The big change will be how the Facebook page looks. Gone are the tabs, and at the top of the page in place of them will be photos – only photos posted by the business. And if there are photos you would rather not have there, you can 'X' them away. So where did all your fantastic tabs go? Over to the left nav. People can now navigate to your information using a left nav, just like they do for most other sites out there.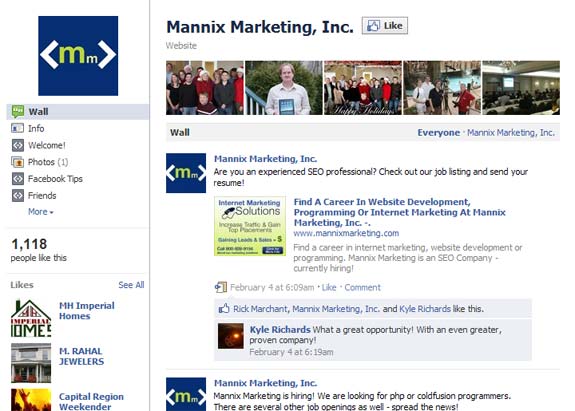 Something else you'll notice as new to the left nav area is that unless you are an admin of a page, you cannot see who is a fan of a page any more (or see their profile picture). All you will see is a number – here it seems Facebook has given the nod to a bit of privacy. Nice. But what you will see is a list of other Business Pages that a business likes (yep, businesses can now Like other Businesses). So you can show your fans what other businesses you recommend, are friendly with or use yourself (and of course, get your Facebook Page on their pages as well).
The new format will provide notification when fans interact with your page or posts. Hopefully this is pretty robust, as I have heard many people asking to be notified of everything and anything when it comes to interactions on their Business Page. This may help with monitoring the page for unruly posts and requests that need immediate attention.
The new format also makes it easier to go through Facebook as a person or as your business – there's a link on the right ("Use Facebook as…"), so you can be sure if you are posting as yourself or as your business on other pages. Less confusion is better we think.
What are your thoughts about these upcoming changes to Facebook? Do you think this change will stick, or will Facebook feel pressured to revert back to the older version like some other times in the past? Let us know what you think.