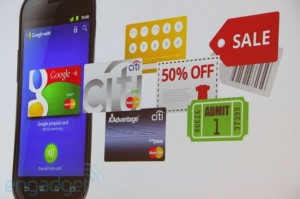 There has been a lot of buzz lately on the Google Wallet – the app that allows you to purchase items with a single tap of your phone. Is my information safe? Why should I use it? I'm here to set the record straight. Arguably one of the most advanced mobile-payment systems in the U.S. to date – this virtual wallet provides a number of benefits, is quick, simple, and 100% safe according to Google.
Sounds cool. But why should I use it?
Jump on the digital bandwagon! Below are the Top 10 reasons to use Google Wallet:
1 – Lighter Wallet – Get rid of carrying around all that stuff! Your phone will essentially turn into your virtual wallet – reducing the need to carry around cash, loyalty cards, transit cards, gift cards, boarding passes, tickets and everything else that clutters up your wallet or purse. Eventually these will all be stored on your smart phone.
2 – Exclusive Offers and Discounts – Google coupons allow you to grab some pretty cool bargain deals and discounts. Even better, the app can provide discounts from nearby businesses according to the users specific location!
3 – Safe and Secure – There's absolutely no need to worry that your data might "be captured over air waves." The phone supports the most secure transactions possible using the secure Near Field Communications and Secure Element chip which provide multiple levels of protection. The NFC antenna in your phone is only activated when the screen is powered on and your 4 digit pin number has been entered. Entering the wrong pin five times will lock the wrong user out, in essence making it more secure than an actual wallet.
Something to think about: On average, a person realizes they lost their wallet or credit card in 8 hours. Their phone? In about 4 minutes. Our awareness is more heightened about where our phone is – providing a faster response rate should anything happen.
4 – Privacy – Your payment credentials are stored in a chip called the Secure Element – only authorized programs like Google Wallet can access the Secure Element to initiate a transaction.
5 – Zero liability – In the same aspect of credit cards, you're not liable to pay for unapproved transactions if Google Wallet is used without your permission.
6 – Growing – Google Wallet continues to grow and is adding new partners daily. It currently can be used at 150,000 locations and 300,000 internationally and will continue to see more companies rolling out in the near future. Google Wallet works in a number of stores including Toys R Us, Subway, Jamba Juice, American Eagle Outfitters, Macy's and can be used anywhere MasterCard PayPass is accepted. Visa, Discover and American Express have also enabled their cards to be added to future versions of Google Wallet.
7 – Stay on Budget – Google makes saving simple. The app can record your payment history and set limits, helping you to stay on budget. You can set a text alert if approaching a limit on a particular type of expense, whether your weakness is doughnuts, lipstick, or electronics!
8 – No paper receipts – Although still in its basic stages, Google Wallet gives you a history of your recent purchases. Save paper and reduce clutter with paperless receipts!
9 – Convenience – The app is simple and convenient. It helps you save time fumbling around for cards and allows you to redeem rewards, digital coupons and save money.
10 – Easy – The app works with major credit cards. Add your Citi MasterCard to your virtual wallet or set up a Google prepaid card with funds from your existing credits cards.
Bonus: Try it out for free! For a limited time Google is giving new users $10 USD on the Google Prepaid Card upon activation of the card.
Of course, Google Wallet and other initiatives to turn your cell phone into a digital billfold are in their earliest stages. The debate will continue – as people have paid with cold cash or plastic for generations and are naturally going to be resistant to change. Educating the public and merchants about the benefits and convenience of mobile payments will take time. Google Wallet will eventually replace all plastic cards that exist today. As the buzz continues, consumers seem to be getting more excited about Google Wallet. After all, it's more than a new, cool mobile app. It offers a new way of life – a mobile life. So go ahead – have fun with Google Wallet and start tapping away!
Is this you? If yes, then you might consider getting a Google Wallet!
http://youtu.be/gKGptWtzeaU
What are your thoughts on the Google Wallet? Will you be using it in the near future? Let us know in the comment section below, we'd love to hear from you!