After many long hours and a joint effort from many different colleagues, I have the pleasure of introducing to you our new Saratoga.com iPhone App – Saratoga.com On The Go!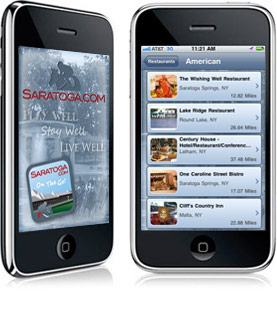 I just sent out our Saratoga iPhone App press release announcing it to the local media, and we're hoping to get the same kind of visibility we got for our LakeGeorge.com On The Go! App — or better. Heck, both of our apps already made national news, spotlighted in a recent article by Ysolt Usigan on the Huffington Post Travel website!
But more so, we're hoping that locals and visitors find and use this new, FREE Saratoga app because it has a ton of cool features and lots of information to help them plan the perfect day, weekend or entire week out and about in Saratoga Springs.
We were sly releasing this app during summer racing season. This way, we get all the tourists who come in for the races to download the app, and even after the excitement at the Saratoga Race Course dwindles this September, these individuals will still have that Saratoga icon on their phone, reminding them to return again and hopefully boosting tourism for the region.
It's a year-round app, too, with information and things to do for every season in Saratoga because heaven knows the party in Saratoga doesn't stop with the races! Now locals and visitors can have a year-round guide to the coolest events, bars, restaurants, spas, attractions and hot spots Saratoga has to offer — right in the palm of their hand!
Want to know more?
Read our press release: Saratoga In The Palm Of Your Hand
Visit our splash page: Saratoga.com On The Go!
Try the app for yourself: Download it here!
Want to advertise on the app?
Contact us about affordable advertising options!