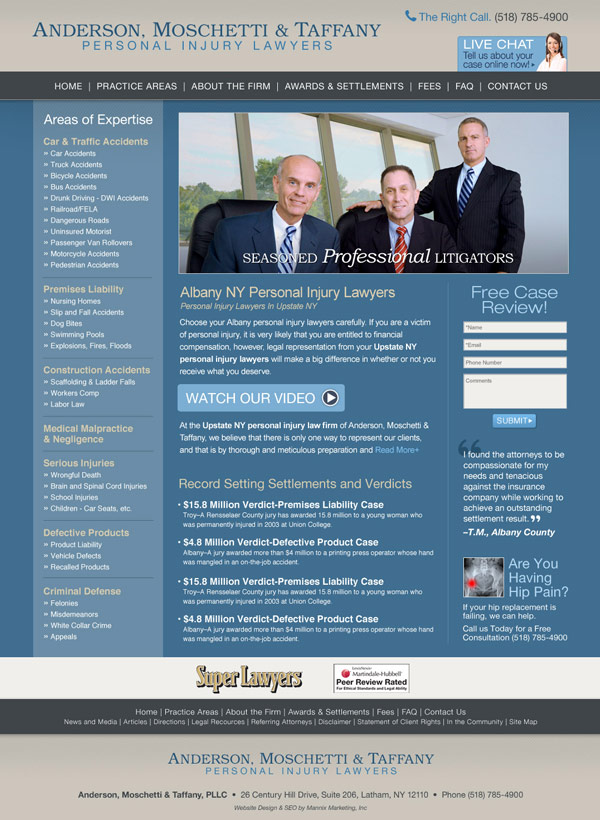 Law Firm SEO Results in 80+ #1 Placements in Search Engines after Redesign and SEO
Anderson, Moschetti & Taffany have been clients of Mannix Marketing for a number of years. As we began this particular SEO project, our mission was to focus the content on the Anderson, Moschetti and Taffany website to a more local level. As local search becomes a bigger part of how businesses are being found, the website needed to position itself to the towns and cities throughout the Albany area. Our goal was to hone the targeted region and undertake an intensive SEO campaign designed to increase their presence online for specific keywords in their geographic area. We have realized impressive results in all areas, with strong improvements in both traffic and placements.
The Results
80+ #1 Placements in Search Engines
41% Increase in Organic Search Traffic
34% Increase in Traffic
Keyword Placement Highlights
#1 in Google for 'Albany slip and fall attorneys', 'Capital District medical malpractice lawyers', 'Schenectady defective product attorney' and 'Troy NY personal injury lawsuits'
#1 in Bing for 'Upstate NY accident injury lawyers', 'Saratoga Springs construction injury lawyer' and 'Latham NY dog bite lawyers'
Comprehensive Search Engine Optimization Program
Increased number of top 10 positions from 207 to 307. The site now has over 80 #1 placements
Increased visibility and improved placements for 'Saratoga Springs' and 'Troy' related phrases.
Organic search traffic increased over 41% over a 1 year period, and overall visits increased 34%.
In the short time that our firm has been a client of Mannix Marketing, they have successfully rebuilt and optimized our website. We are getting better placement than we were after two years with our previous provider. They have accomplished both in a professional, responsive and competent manner. They are a great team to work with and we look forward to a long relationship.
Jeff Anderson, Partner | Anderson, Moschetti & Taffany Law