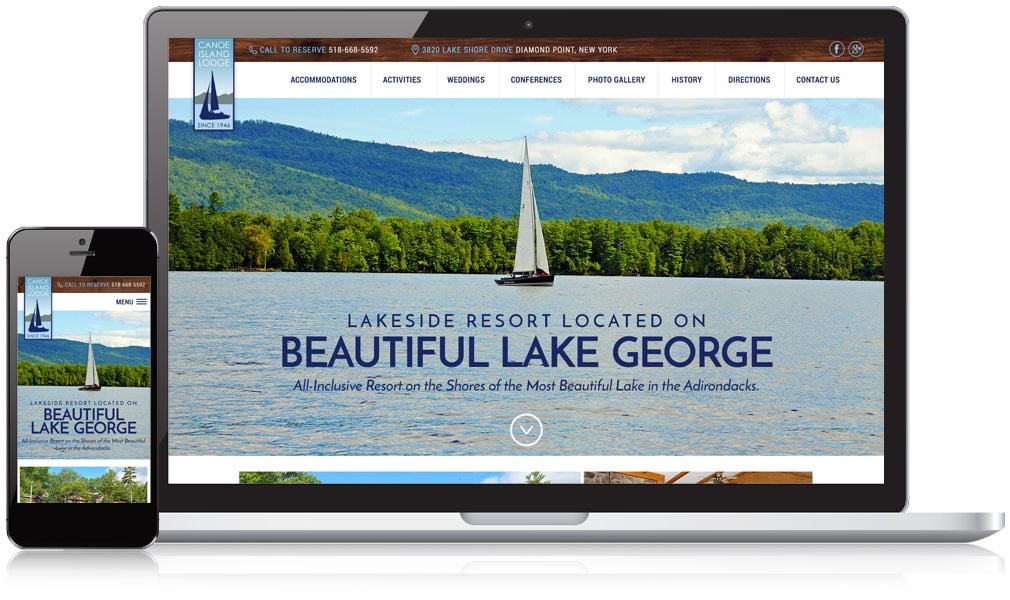 All-Inclusive Resort Web Design Spotlight: Canoe Island Lodge
Canoe Island Lodge is a picturesque resort located in the lush evergreens surrounding the banks of beautiful Lake George. Known for being a full-service Adirondack resort, the Canoe Island Lodge welcomes repeat vacationers year after year. Family run and operated, besides hosting family vacations and reunions, this resort graciously hosts conferences and lavish weddings.
The Results
124% Increase in Traffic
155% Increase in Visitors
57% Increase in Referrals
The site redesign was developed in WordPress with a focus on strong calls-to-action and showcasing the fun and amenities of the resort. A clean, user-friendly navigation featured prominently across the top of the site makes it easier for visitors to find the information they need to plan a vacation at Canoe Island Lodge.
Canoe Island Lodge has also had Search Engine Optimization incorporated into the site to help with their visibility in the search engines. Built with today's travelers in-mind, the new website uses mobile-friendly responsive design to provide a user-friendly experience for desktop, tablet, and smartphone visitors.
Strategic SEO Services for Lodging Property in the Adirondacks
By using a targeted approach in optimizing canoeislandlodge.com, Mannix Marketing was able to increase specific keyword rankings, which helped lead to a tremendous increase in online traffic for The Canoe Island Lodge. The solid SEO foundation of the website generated during the 2 month boost flushed out some of the content, increased internal linking and streamlined website code. With an optimization maintenance program, the site is positioned to compete head to head in the highly competitive Lake George lodging market.