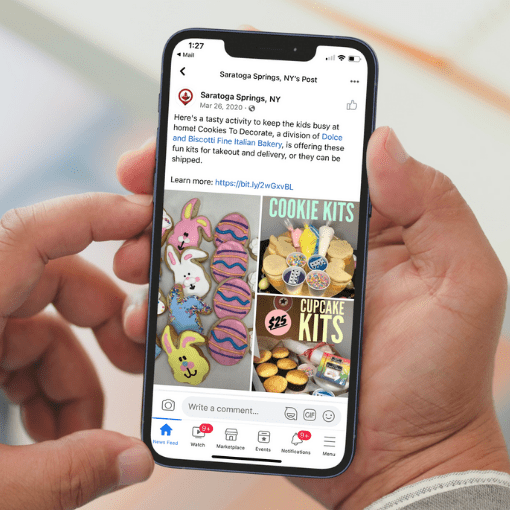 One Local Bakery's Recipe for Massive Online Cookie Kit Sales
Dolce and Biscotti is a fine Italian bakery in Clifton Park, NY that sells cookie decorating activity kits for kids online. At the start of the pandemic, owner Mary Baldi-Fron was faced with the dilemma of how to keep sales up without foot traffic to their bakery. To get the word out about the new kits, Dolce and Biscotti partnered with Mannix Tourism, while also working with our team of website experts to quickly pivot and build out their Cookies To Decorate website in order to increase online sales. The posts about the kits on our popular regional social media platforms went viral almost instantaneously.
The Results
50K+Impressions
1.4K+ Clicks In One Week
100+Shares
The Recipe for Dolce and Biscotti's Success 
As every baker and marketer knows, timing is everything. And for Dolce and Biscotti, timing their post exactly when Easter sales were starting to pick up and when New Yorkers were desperate for new indoor activities, made all the difference. As our local community started to adjust to life indoors in the midst of the coronavirus pandemic,  a Cookie Decorating Kit was the perfect cup of fun and sugar that our fans wanted and needed. 
Consider Mannix Tourism Your Local Expert 
At Mannix Tourism, the community is at the core of all we do. We love and value our upstate New York community and care about meeting the needs of both our fans and business partners. 
With a heart for the community, our team of marketing experts knows how to deliver a message that will connect and resonate with the audience that we know best. That's why our sites are visited by millions of people each year; why our newsletter features get results; and why we continue to do what we do.
Wondering If We Can Help You? Let's connect. Let us know your need today by emailing us below or calling 518-743-9424
The best part about owning a small business is having another small business, Mannix Marketing, custom design your business website! They are local and jumped in immediately to assist us in retooling our offerings to boost my company sales during the pandemic! It saved my business!
Mary Baldi-Fron, Owner | Cookies to Decorate