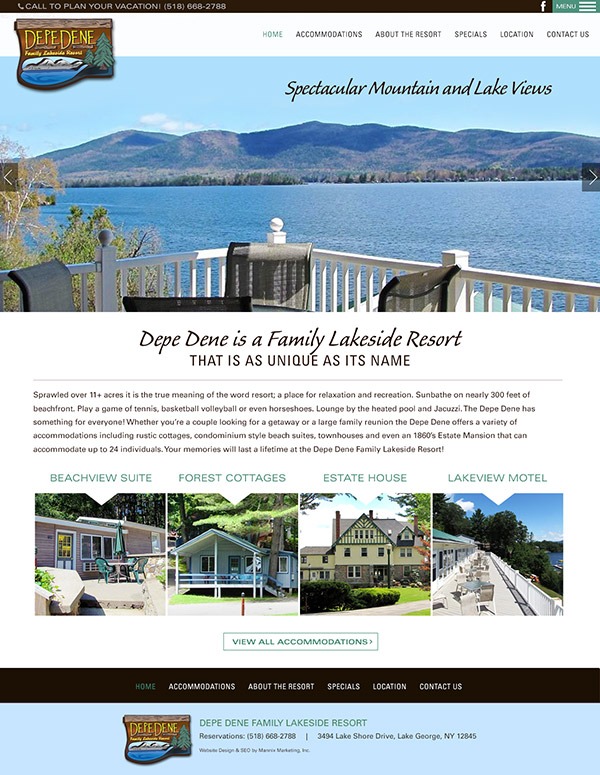 Hotel Website Redesign Results in More Website Visitors, Improved SEO Traffic and More Bookings!
Depe Dene Resort is a family lakeside resort on Lake George. With a wide array of accommodations, they wanted to make the process of finding a room through the website easier for potential guests. In addition, their existing website wasn't designed for mobile devices, so they needed a modern new design optimized for travelers who would be searching for resorts in Lake George, NY from their desktop and mobile devices.
The Results
17%Increase in Organic Search Traffic
+19%Page Views
-27%Site Visitors
SEO Friendly Hotel Website for Depe Dene Resort
The home page of the new website gives potential guests a quick look at what sets Depe Dene apart from other resorts and lodges in the Lake George region while photos of the Beachview Suite, Forest Cottages, the Estate House, and Lakeview Motel introduce the resort's various lodging options.
To give potential guests a user-friendly experience on desktop and mobile devices, the new website uses responsive design as the layouts, text copy, images, buttons, and contact forms automatically reformat for optimal display on different screens and devices.
Accommodations Search Form Helps Travelers Find the Right Room
An easy-to-use accommodations search form simplifies the booking process by letting potential guests narrow down the various lodging options to find the one that best fits their needs. From there, visitors can filter results by accommodation type, location, number of guests, and whether or not they need a pet-friendly room!
Accommodation landing pages use a specially designed layout which features a photo gallery, description, video tour, and rates table so that potential guests can easily get a detailed look at each lodging option.
To reinforce the booking process, custom designed calls-to-action are strategically placed on the website and encourage potential guests to speak with Depe Dene's vacation planning specialists!
Finally, because the new website was developed on the user-friendly Custom WordPress Content Management System, Depe Dene Resort's staff can quickly and easily add new photos of their accommodations and property, update the activities and rates, and add more information about their family-friendly resort.