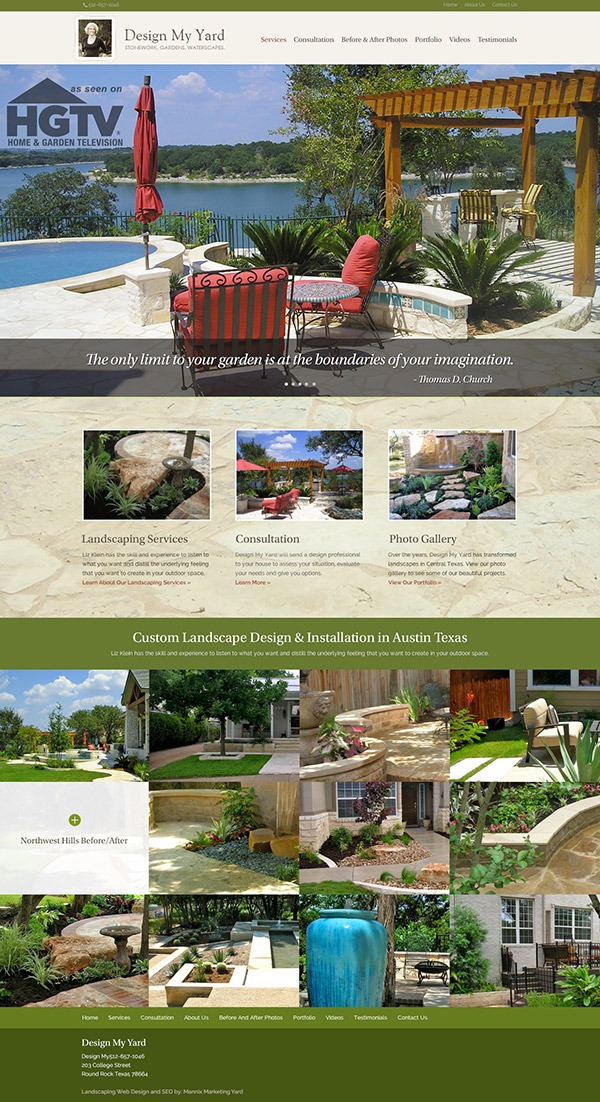 Landscape Design Company Gets Stunning New Website Design
Upon visiting this site, users are welcomed with a stunning photo slideshow. This website features a picture gallery as well as a before and after page, allowing viewers to see what services this company offers. Design My Yard has an informative, easily accessible site that serves as a platform for getting to know the company's work.
If only there were words adequate to express how pleased I am with my new website. My old one was a great draw and got me plenty of business=but the new one is phenomenal. I had only a vague idea of what I wanted and somehow Mannix Marketing caught on immediately understanding just what I needed to attract homeowners to my site. "A photograph can say so much more than all the best written copy" they explained, suggesting the layout, format and type of photos to include. I couldn't get over how quickly they worked from concept to making actual samples of the design pages for my review. Even after completion, when I've sent requests for modifications and my website edited and up again in minutes. I'd definitely use them again and will recommend this company to friends and business associates in Austin. Thanks a million!
Elizabeth Klein | Design My Yard