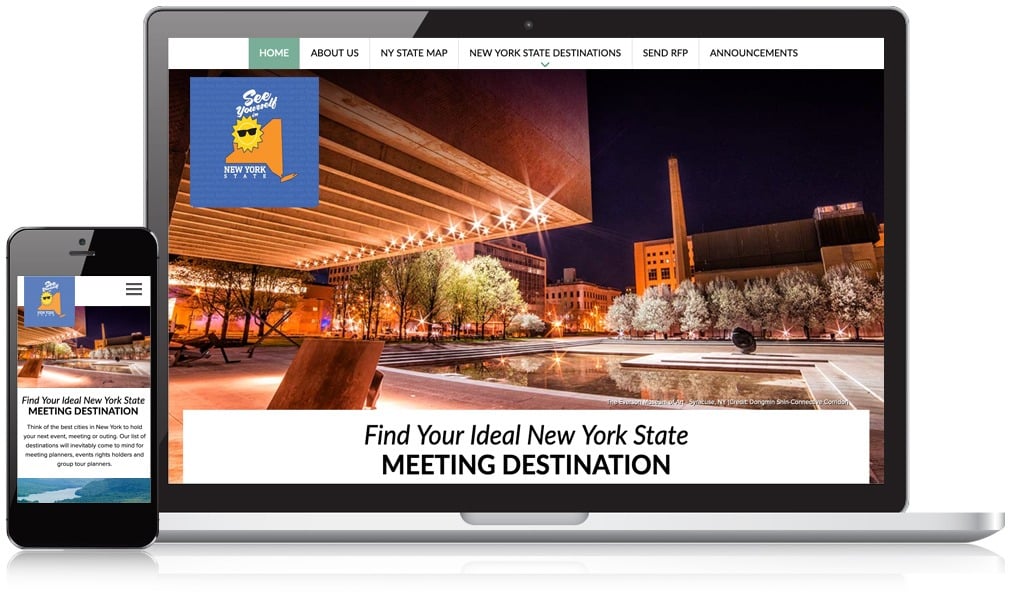 Destination Marketing Website Redesign
New York State is home to a variety of great destinations for hosting meetings, conferences, and other special events. Meeting and event planners spend a lot of time searching for meeting spaces, tracking down contact information, collecting details about the area, and so much more. Members of the Destination Marketing Organizations of New York State contacted Mannix Marketing to create a professional, user-friendly website that would help meeting planners and event organizers find and compare destinations from around New York State.
New York State Meetings simplifies the process of finding and comparing venues for conferences, meetings, and special events by featuring venues and destinations from around New York State in one convenient place.
The website features more than 80 meeting venues from over 18 popular destinations in New York State. Today, meeting planners can visit NewYorkMeetings.com to quickly and easily find meeting venues, contact information, and other pertinent details about the venues and regions.
Further, visitors can submit an RFP directly through the website so that their meeting specifications are sent to venues in multiple destinations. This can save a great deal of time for meeting planners who would typically send the same RFP to numerous hotels, conference centers, and other venues one-by-one.
The website also helps convention and tourism bureaus explain what makes their region ideal for special events. In addition to listing out meeting venues in their region, convention and tourism bureaus can highlight popular attractions and itineraries for group tours.