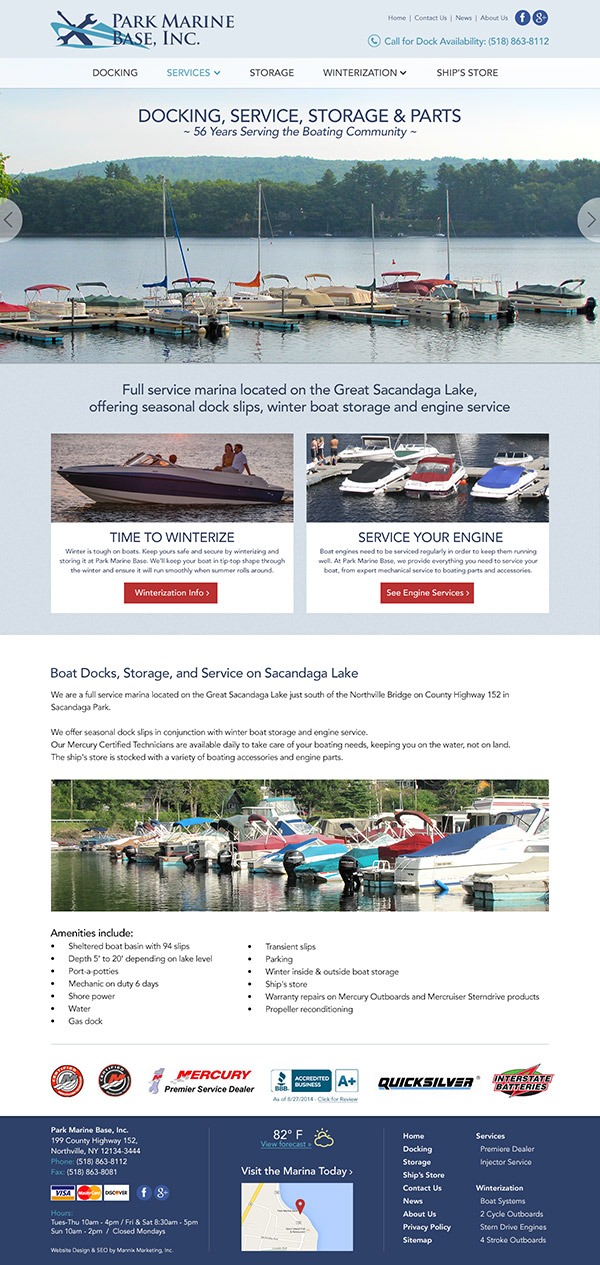 New Responsive Website For Popular Marina
Park Marine Base is a family owned business that's been providing boat slips, storage, and maintenance services to local boat owners on the Great Sacandaga Lake since 1965. When Mary contacted us about a new website for her family's marina, she needed a modern website that was user-friendly on desktops and smartphones, easier for her to manage, and helped local boaters discover the marina and learn more about its services.
Responsive Website Design for Sacandaga Lake Marina
Today, Park Marine Base has a modern, professional, responsive designed website that's easy-to-use on desktop, tablet, and smartphone devices. With more people searching for local businesses on their mobile devices, the new website provides a user-friendly experience across devices and helps Park Marine appeal to a larger audience beyond just desktop searchers.
In addition, the content is well-organized so that visitors can seamlessly navigate from one page to the next and learn about the marina's slips, storage, and professional services. Strategically placed white-space around the text copy, images, and calls-to-action offers ample breathing room and helps create a clutter-free user-experience where visitors can get the information they need and get on with their plans for the day.
Easy-to-Manage, Hassle-Free Website
Gone are the days when Mary had to dive into her website's code to update the site. Today, she can quickly and easily make changes to the marina's website through a user-friendly editing area where all of her website's pages, media, and other content is conveniently located.
Created on WordPress Content Management System, this user-friendly set-up provides a hassle-free way of letting Mary make important edits to the website, such as updating the marina's fees, providing more information about their services, or adding new photos.