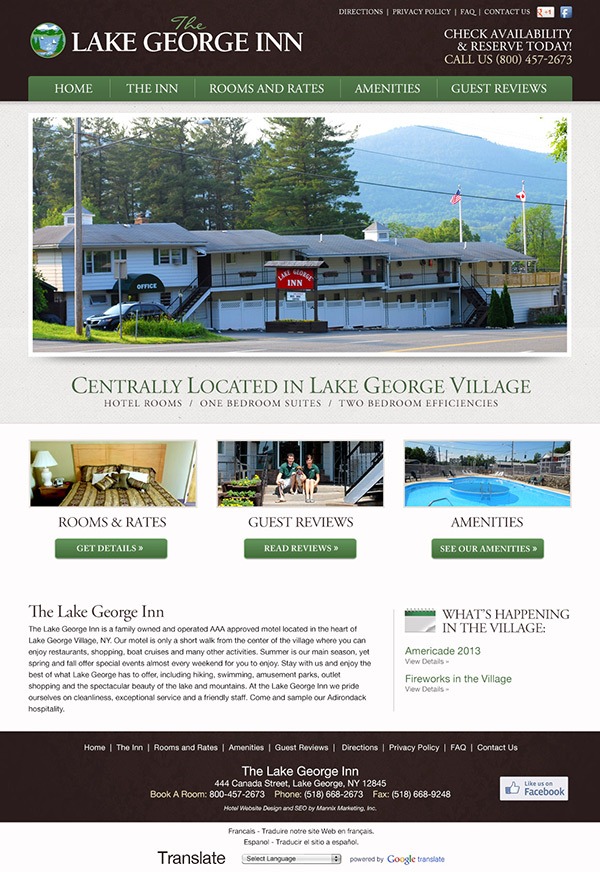 Popular Lodging Facility Gets User Friendly Website Redesign
The Lake George Inn is situated on the main street of Lake George village, providing guests with affordable accommodations in a convenient location for spring, summer and fall getaways.
When Dan approached us about a new website for his motel, he wanted the ability to quickly and easily make changes to the website, while allowing potential guests to make inquiries and explore the property's accommodations, amenities, and guest reviews directly from their mobile devices.
The new Lake George Inn website is designed on a user-friendly Content Management System called WordPress, allowing Dan to update the content on his website- from room rates to features to the amenities and more- without ever having to dive into the website's code. This makes life easier for Dan as he can make updates to his property's website on the fly while saving money that would have been spent by sending these edits through his webmaster.
When travelers land on the new website, they're greeted by a professional photo of the property along with a prominently displayed message which conveys the motel's unique selling points (central location and multiple room options). Strategically placed calls-to-action guide visitors deeper into the website so they can quickly find the information they need to make a booking decision.
Whether travelers are visiting the new website from their desktop, tablet, or smartphone, this responsive designed website provides a user-friendly experience across devices as the content automatically adjusts to fit the visitor's browsing device.