Adirondack Tree Surgeons
Adirondack Tree Surgeons wasn't just looking for a "new website design"- they needed a way to get found online, tell people what made their tree removal services a notch above the rest, and allow potential customers to quickly and easily schedule an appointment or request a quote. The existing website was severely limiting their ability to reach these goals since it was almost impossible for Kim to add new content, it was designed exclusively for desktop devices, and the overall site wasn't conveying their unique selling points.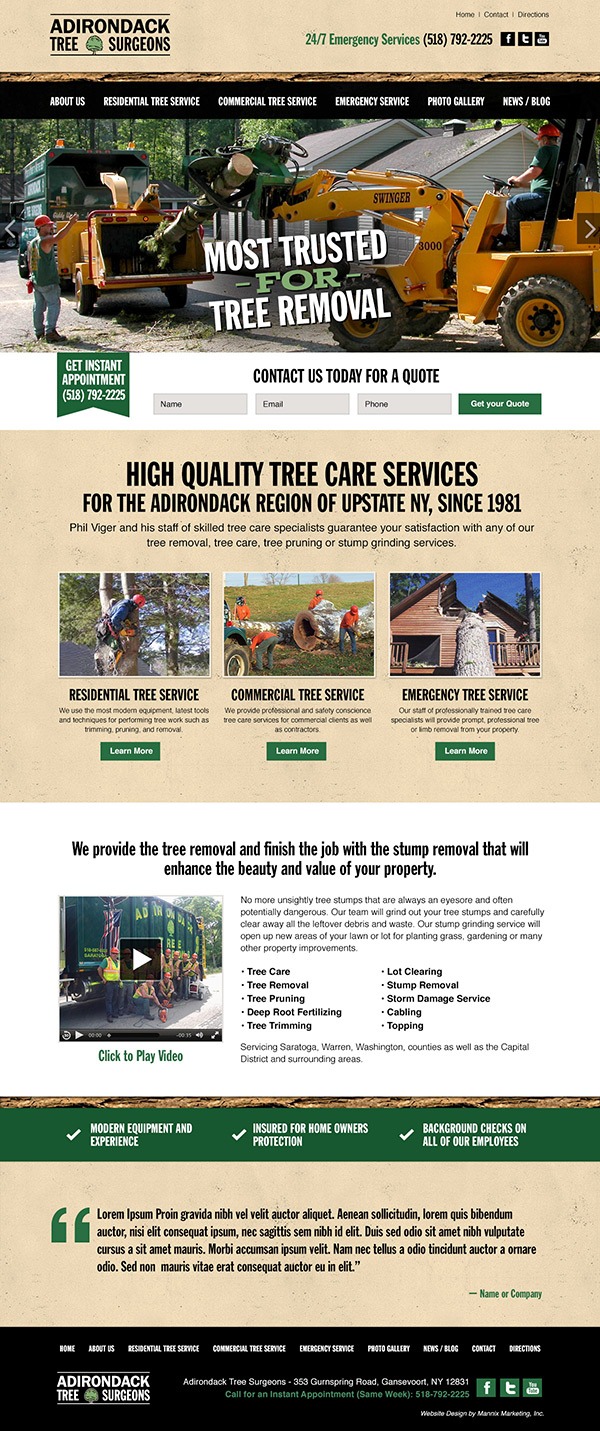 When you land on the new website, a powerful full-width image showcasing their team in action, coupled with a clear message about what they do, visually and verbally communicates that Adirondack Tree Surgeons is equipped to handle your tree removal needs. Strategically placed calls-to-action such as "Get Instant Appointment" and "Contact Us for a Quote Today" boldly tell visitors what to do next if they're ready to get help.
From the before-and-after photo gallery to customer testimonials, unique "trust symbols" are incorporated throughout the new website to reinforce the company's professionalism and credibility.
Because the new website was created on the user-friendly WordPress content management system, Kim can now easily add new images to the photo gallery, create new pages, upload the latest testimonials from their satisfied customers, and continue making the website a more valuable resource for the company and potential customers alike.
Finally, the new Adirondack Tree Surgeons website was created with responsive design, which means potential customers can expect a user-friendly experience when browsing the website from their desktop, tablet, or smartphone device.
Partner with Us Today and See Your Business Thrive Online
Ready to get started or want to learn more about how we work with clients? Let's get it scheduled.