AIM Services, Inc.

Traffic-Driving Website Redesign for Non Profit

AIMs Services needed an updated and informative website design that made it easy for website visitors to discover their mission and get involved, either through making a donation, to attending events, or simply connecting with the organization on social media.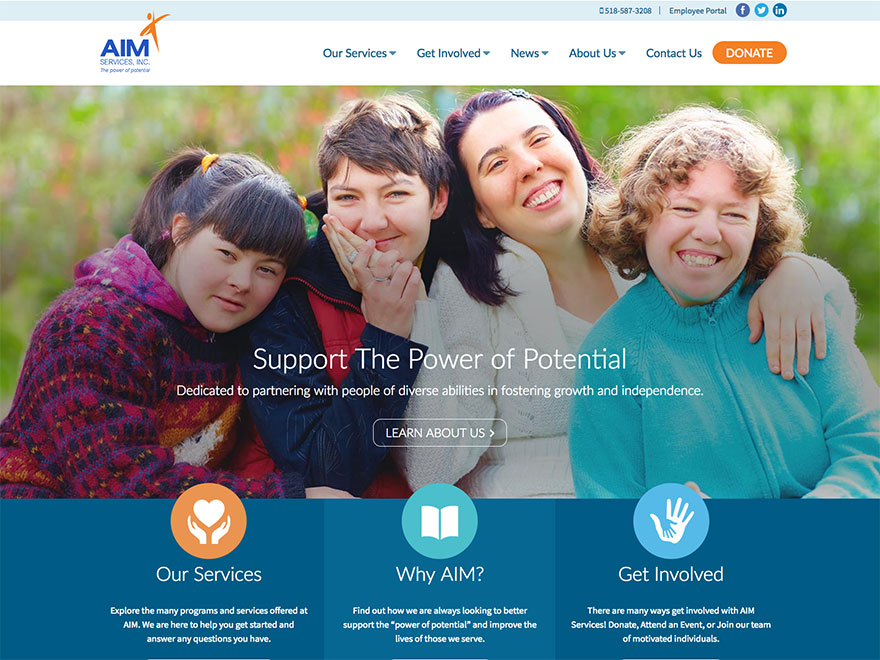 The Results
52%More Site Traffic
49%More Page Views
60%More Organic Traffic
Make Your Objectives Clear to Website Visitors
AIMs Services's custom website was designed to capture the attention and educate website visitors. A powerful emotional image shows the significance of this charity while underneath three distinct objectives point visitors in the right direction: Our Services, Why Aim?, and Get Involved. The strategically placed "call to action" buttons below these objectives and drive visitors to further pages on the website for more information so they stay on your website longer, and the stats prove that–since the website went live, pageviews have increase by 49%!
Get Found on the Web
All of our websites at Mannix Marketing are designed with built-in foundational SEO tactics to help you get found in search engines. Since AIMs Service's website redesign went live, organic search traffic has increased by 60%. If you're looking to get new visitors to your website to help grow your nonprofit, you can't neglect SEO strategies. AIMs saw a 25% increase in revenue and a 20% increase in job applicants in just one year!
Reach Your Audience Where it Matters Most
In addition to a website redesign, Mannix assisted AIMs Services with their Facebook Marketing. After a Social Media Consultation and Training to educate them on successful social media marketing strategies, social media traffic to the website increased by 58%!
Are you a nonprofit looking to increase traffic to your website?
Through a more robust website and thoughtful Facebook presence, our overall referrals from social media have increased a whopping 107%. Traffic to our website from Facebook has increased dramatically by 1,044% (not a misprint!). But that tells only a part of the story; Mannix's personal touch and genuine connection with our mission resonated with our key stakeholders to ensure the deliverables we need to survive and thrive in the future.
Chris Lyons, Senior Director and Counsel | AIM Services
Partner with Us Today and See Your Business Thrive Online
Ready to get started or want to learn more about how we work with clients? Let's get it scheduled.