AIM Services provides support services to people living with disabilities. The organization needed a compelling, professionally designed website that would showcase the impact of their services and the people who make it possible, and give internal staff more control over managing the site. Mannix Marketing and Stewarts Shops partnered to achieve these goals and support this cause.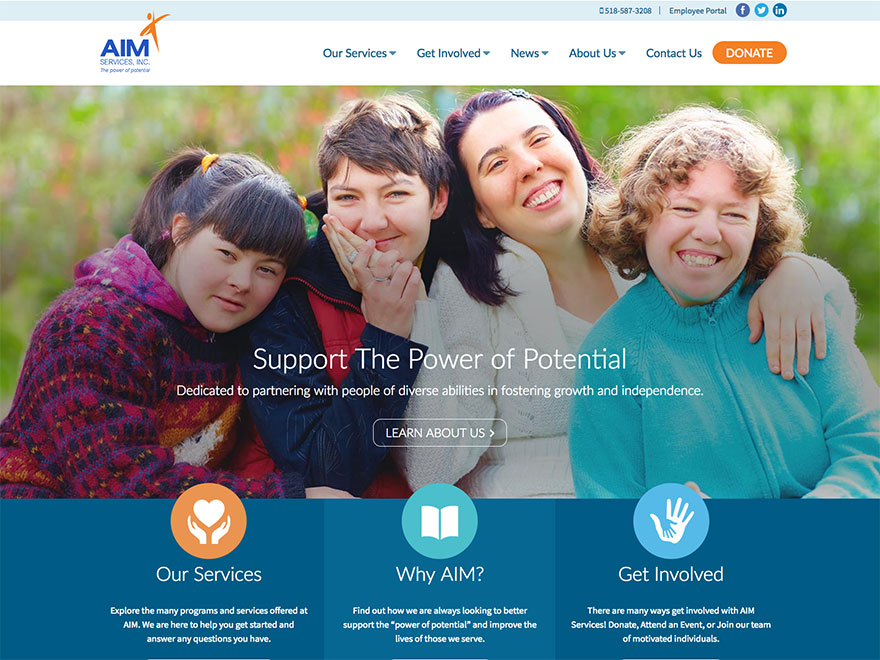 The Results
35%More Site Traffic
12%Lower Bounce Rate
70%More Organic Traffic
The new website focuses on the story of the profound impact of the organization's services and highlights the many ways people can get involved with AIM Services- from making a donation to attending events to simply connecting with the organization on social media and beyond.
The results were dramatic – increased quality visitors to the site: 39% more people overall and 54% more people from their target market.
Visitors to the site liked the site more:  They visited more pages (29% more) and bounce (or immediate exit rate) lowered 12%.
Organic Search Traffic due to built in SEO increased 70%
Social media traffic increased due to a Social Media Consultation and Training, 47% and Facebook traffic increased 71%
Revenue increased 25%
Online Job Applicants increased 20%
>Mannix Marketing
Through a more robust website and thoughtful Facebook presence, our overall referrals from social media have increased a whopping 107%. Traffic to our website from Facebook has increased dramatically by 1,044% (not a misprint!). But that tells only a part of the story; Mannix's personal touch and genuine connection with our mission resonated with our key stakeholders to ensure the deliverables we need to survive and thrive in the future.
Chris Lyons, Senior Director and Counsel | AIM Services