The Alpine Lodge

Website Redesign combined with Marketing Results in 7x More Organic Traffic

The Alpine Lodge offers year-round lodging and cozy amenities in a convenient location near Gore Mountain. The Lodge wanted their website to create a better experience for travelers who were searching for accommodations in the Adirondacks, so they contacted the team at Mannix Marketing for a modern designed, responsive, SEO friendly lodging website. The results were significantly improved occupancy rates.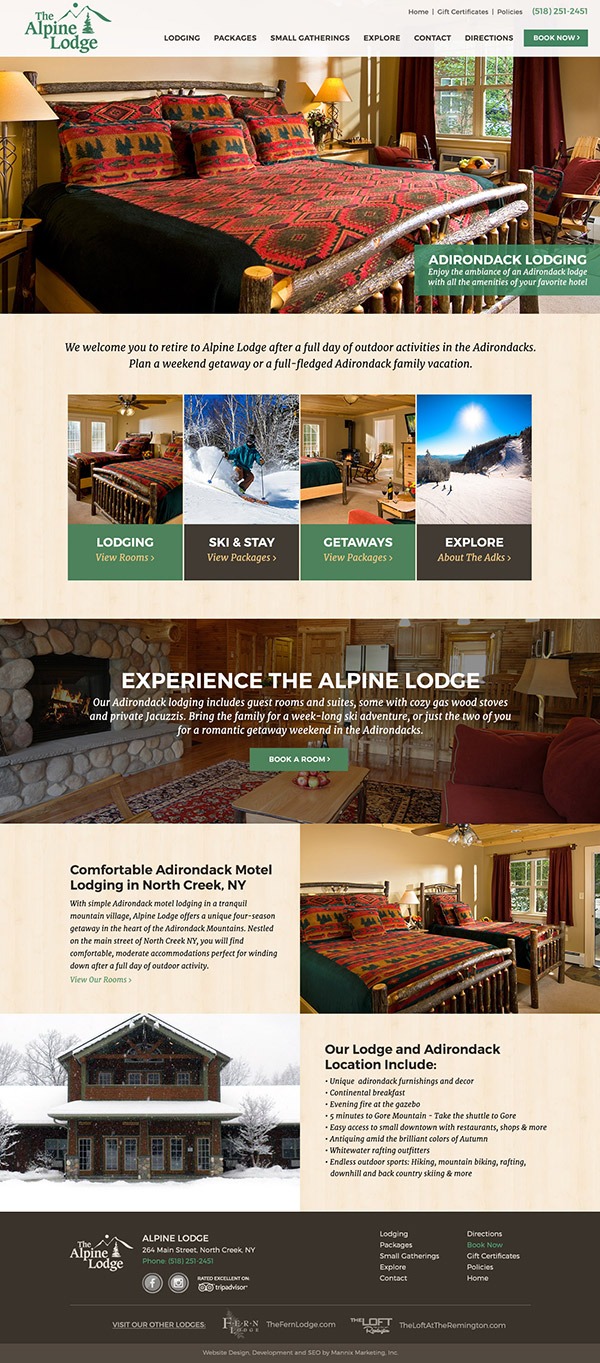 The Results
19%Lower Bounce Rate
17%More Page Views
722%More Organic Traffic
Modern Lodging Website Design for The Alpine Lodge
Visitors are greeted by stunning images of the lodge and its comfy accommodations. Subtle wood textures coupled with earthy color tones create an Adirondack vibe.
Strategic calls-to-action encourage visitors to make a reservation, browse rooms, view special packages, and explore more of what makes The Alpine Lodge a great place to stay in the Adirondacks.
Because so many travelers hop from smartphones to laptops to other devices when planning their trip, the new website uses responsive design to provide a user-friendly experience across desktop, tablet, and smartphone devices.
Mannix Marketing is our only go-to for all our advertising, website development, SEO, and social media consult needs. They are the Adirondack business specialists for sure; professional, knowledgeable, skillful, and responsive.
Sharon Taylor, Owner | The Alpine Lodge
Partner with Us Today and See Your Business Thrive Online
Ready to get started or want to learn more about how we work with clients? Let's get it scheduled.