Comfort Suites of Lake George offers spacious suites and an array of amenities that appeal to families and business travelers alike. When they asked Mannix Marketing to update their online presence, they were interested in a professional hotel website designed and developed to set the property apart from other resorts in Lake George, create a user-friendly experience across devices, and ultimately encourage more travelers who were searching for hotels in Lake George to book a room at their award-winning property.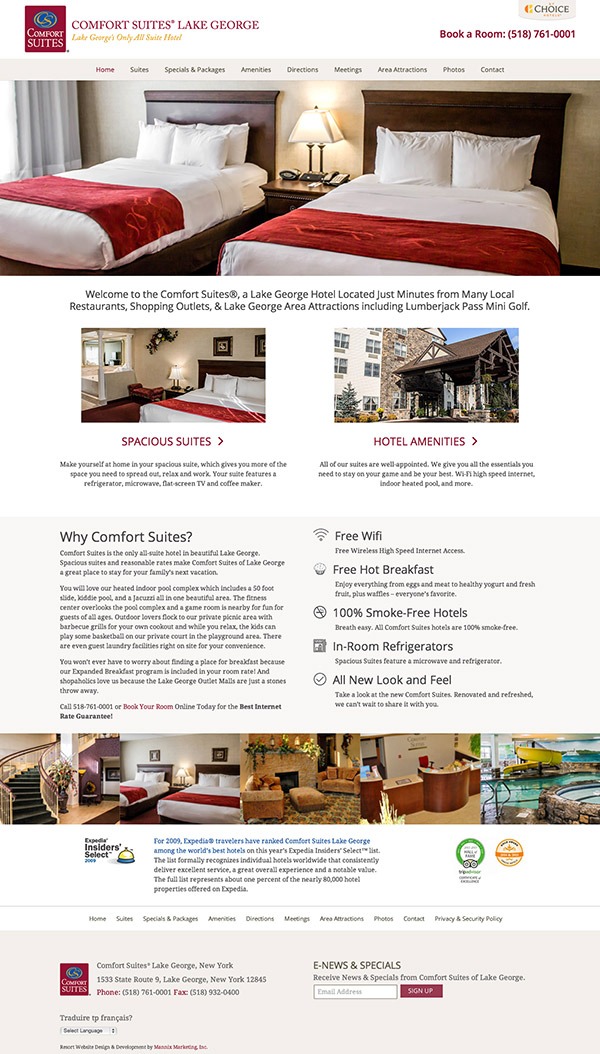 Professional, User-Friendly Hotel Website
From the home page of the new website, stunning images of the hotel and its amenities creates a visual description of the guest experience. In addition to featuring eye-catching visuals, the "Why Comfort Suites?" section displays compelling highlights of the hotel to further convey why this property is the right choice for families and business travelers alike.
An easy-to-use navigation menu featured along the top of every page on the website allows visitors to dive further into the site where they'll find more information about the hotel's spacious suites, amenities, specials and packages, meeting spaces, and more!
Potential guests are encouraged to "Book a Room" at Comfort Suites of Lake George as prominent calls-to-action, phone numbers, and contact information are strategically displayed throughout the website where visitors can quickly and easily find them!
Responsive Hotel Website Built with Modern Travelers in Mind
Potential guests who visit the new Comfort Suites of Lake George website are sure to have a great experience no matter what type of device they're using to search for hotels and plan their vacation. By creating the new website as responsive designed hotel website, Comfort Suites of Lake George provides a mobile-friendly experience for potential guests while adhering to Google's mobile-friendly ranking criteria (which can help them get found in the search engines).
There are many hotels and resorts for travelers to choose from in the Lake George region, so to help the new website convey why Comfort Suites of Lake George is unique to other hotels, we incorporated their trust symbols- such as the TripAdvisor Certificate of Excellence, Gold Award from Choice Hotels, and Expedia Insider's Select award- into the new website, which provides an additional layer of credibility.