The Cool Insuring Arena is a multi-purpose complex in Glens Falls, NY which hosts concerts, sporting events, family entertainment, trade shows and other events. Making it easy for people to find upcoming events and learn about the complex is critical for attracting performers, groups, and attendees alike. Because their old website was feeling outdated, not optimized for mobile devices, and could not easily be updated by staff, they contacted Mannix Marketing for a mobile-friendly, custom designed, easy-to-use website.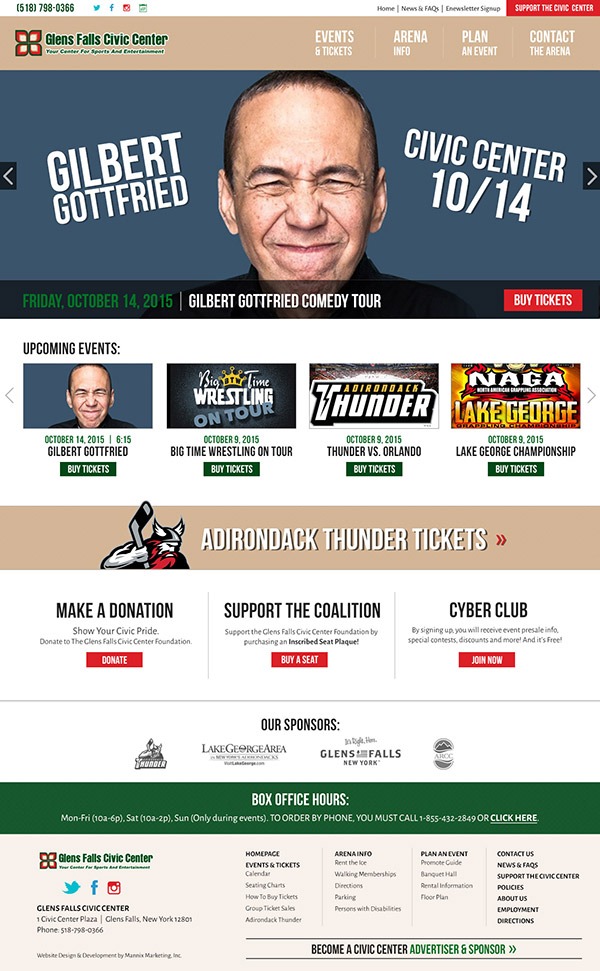 The Results
34% increase in overall traffic
60% increase in traffic from mobile devices
53% increase in traffic from organic search results
Custom Designed, Mobile-Optimized Civic Center Website
The new mobile-friendly responsive website is designed to help desktop and smartphone visitors quickly and easily find upcoming events, learn about the venue, contact the civic center for additional information, and much more.
An easily updatable events calendar lets the civic center post new events on the website so that visitors are sure to find the latest information on upcoming performances and events. In addition, the new website makes the planning process a breeze by helping visitors navigate to various sections of the site where they'll find information about seating, box office hours, how to buy tickets, parking and directions, and more!
In addition to providing a user-friendly experience for potential attendees, the civic center's website must also to appeal to event organizers who are searching for local venues that can host their performances, gatherings, and other events. Arena info helps groups plan their event at the civic center, while the prominent contact forms encourage them to get in touch with the Glens Falls Civic Center's events managers.
Finally, the new website makes it easier than ever for people to show their support for the civic center. From the website, people can now get involved by making a donation and participating in the buy-a-seat campaign.
Partner with Us Today and See Your Business Thrive Online
Ready to get started or want to learn more about how we work with clients? Let's get it scheduled.