The MicroBottler is a bottling and capping machine manufactured in the U.S. by DK Advanced Technologies. The machine is designed for microbreweries who need a cost-effective solution for bottling and capping their beverages. After we designed the new logo for DK Advanced Technologies, Dan supplied us with an initial version of the MicroBottler logo which he drew on a napkin. Based on that sketch and a clear understanding of the product, benefits, and target market, we applied our creative process and marketing savvy to bring Dan's drawing to the next level.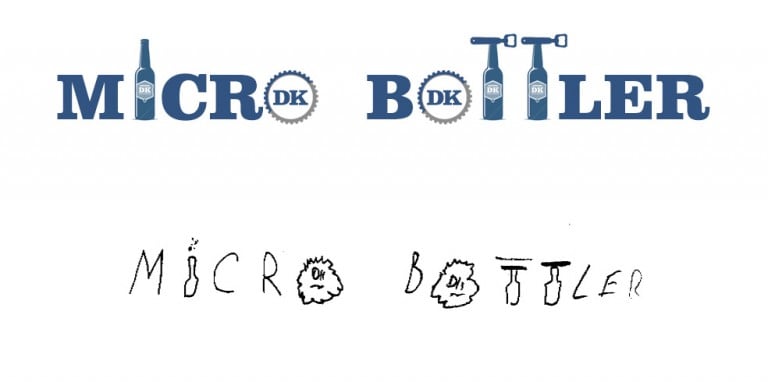 The initial concept for the MicroBottler logo used a beer bottle to represent the "I" and each "T," while a bottle opener placed on top of each "T" helped complete the shape of that letter. To clearly establish the link between the MicroBottler and DK Advanced Technologies, the DK was incorporated on the beer bottle.
In addition to creating an aesthetically pleasing digital version of the sketch, we sent Dan several more unique concepts of the logo:

Following a few rounds of fine-tuning, we landed on a design that fully encapsulated the message behind the MicroBottler. In the final version, you'll notice the "DK" on the beer bottle label puts the parent company name front and center so that people are aware that the MicroBottler is a product of DK Advanced Technologies. The red, white, and blue color scheme helps convey the Made in America theme. Not only is this something that makes the MicroBottler unique compared to similar products, this also happens to be an important benefit in the eyes of many microbreweries.