The Flamingo Resort on Lake George is a family vacation resort in Diamond Point, NY, and situated along the peaceful shores of Lake George. With a new season fast-approaching, they needed a modern, easy-to-use, and mobile-friendly responsive website to appeal to prospective guests and generate more booking inquiries from the web. In their search for website design companies, they hired the team at Mannix Marketing for our professional website design skills, search engine-friendly development techniques, and knowledge of marketing for the travel and hospitality industry.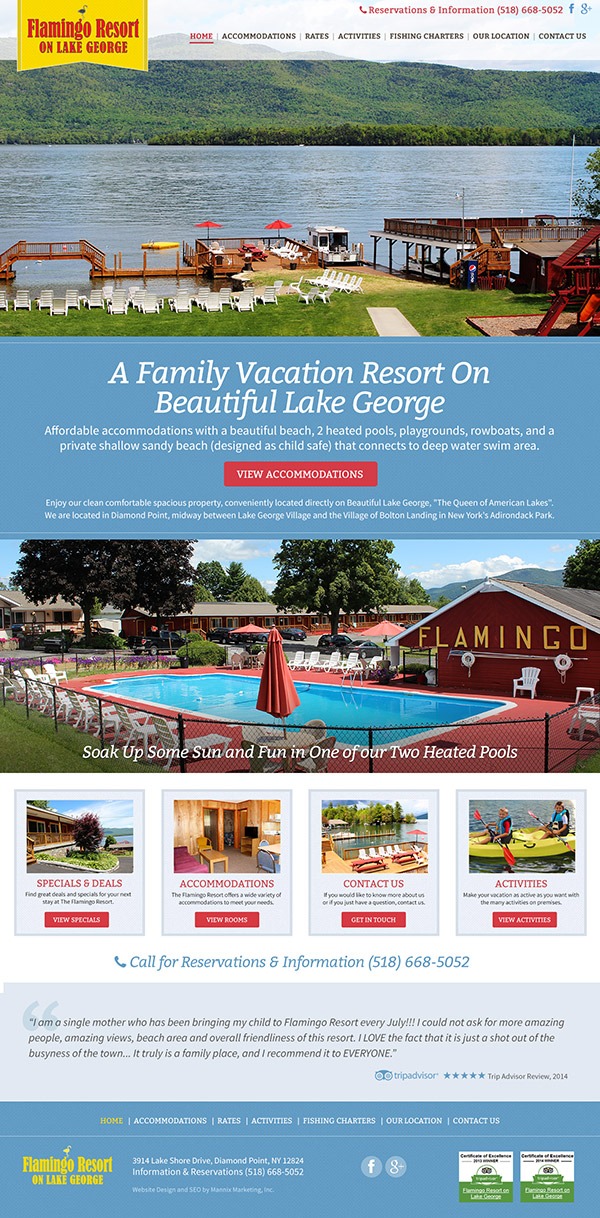 Modern Website Design for Family-Friendly Lake George Resort
We led the website redesign process with a brand strategy session to further discuss the Flamingo Resort's goals, target audience, and what made their resort different from other hotels and lodges in the Lake George region.
Created with a theme (template) website design, we personalized the look and feel of the new website by infusing the Flamingo Resort's uncanny color palettes and branding elements into the design. Targeted calls-to-action encouraging visitors to "Call for Reservations" and prominently displayed contact information are featured across the site so that travelers can seamlessly dive into the booking process.
In addition to a user-friendly photo gallery which reveals unique photos of the property, we featured guest reviews from the Flamingo Resort's TripAdvisor account on the new website to highlight the guest experience from the travelers' point of view.
Mobile-Optimized Website Built with SEO in Mind
As a mobile-optimized responsive website, the resort's new site automatically adjusts to work on different devices and allows potential guests to interact with the website from their desktops, tablets, and smartphones. Creating a responsive website also improves the Flamingo Resort's SEO because search engines now reward mobile-friendly websites with enhanced visibility in the search results.
To help potential guests find the Flamingo Resort, we used search engine-friendly techniques during the redesign process and incorporated the appropriate keywords throughout the website. This helps the Flamingo Resort get found for important keyword phrases (such as "Lake George resorts"), and makes it easier for more prospective guests to discover this beautiful, family-friendly resort on Lake George.