Home Health & Hospice Care (HHHC) provides home care and hospice services to people of all ages throughout New Hampshire. Like many organizations, their website serves multiple departments- from marketing to development to human resources and beyond- but became outdated and was no longer a reflection of their expert approach to home and hospice care. In need of a modern website, they hired Mannix Marketing to create a mobile-friendly responsive, professionally designed site for showcasing their expert services, highlighting career opportunities, and making it easy for visitors to make donations.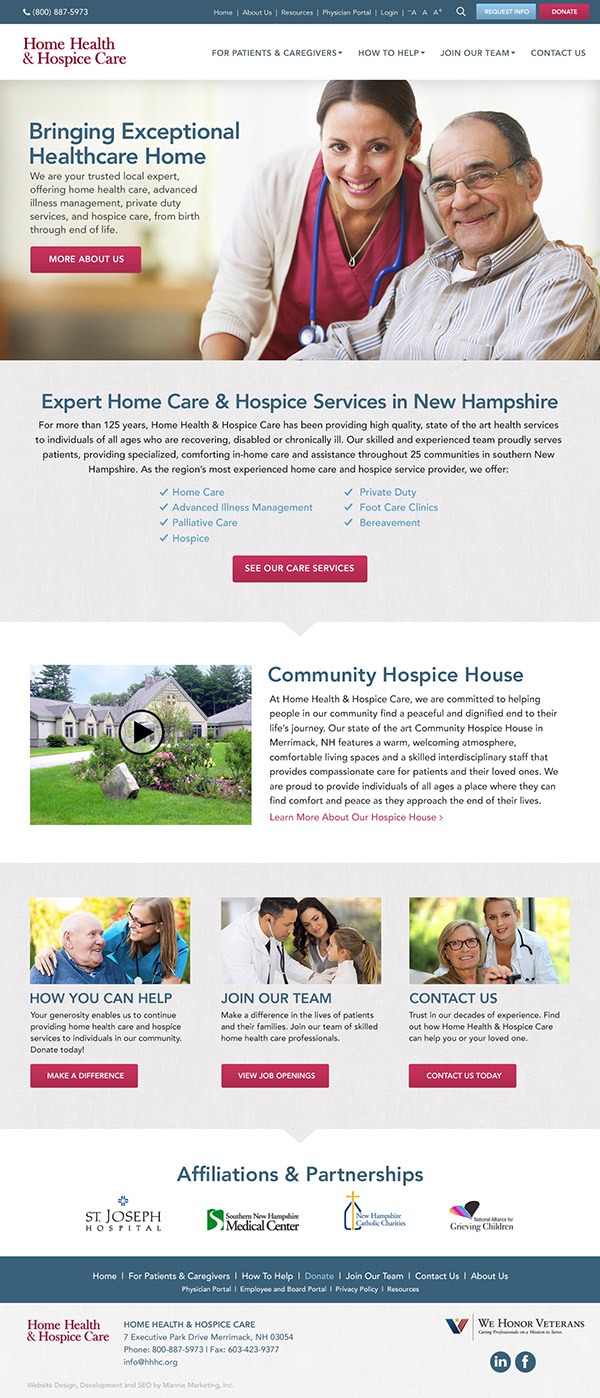 Home Care and Hospice Services Website
From the home page, prospective patients and caregivers get a glimpse into HHHC's expert care services, such as home care, hospice, palliative care, bereavement, and private duty. The home page also features a brief video and description of HHHC's Community Hospice House in Merrimack, NH. As one of the many things that distinguishes HHHC from competing hospice care providers, it's essential to highlight the state-of-the-art facilities where staff members deliver compassionate care to patients and their loved ones.
This mobile-friendly responsive home care website makes it easy for desktop and mobile visitors to effortlessly navigate from page to page, interact with the content, complete forms, and request more information.
To help HHHC get found by prospective patients and caregivers, we incorporated fundamental Search Engine Optimization and created search engine-friendly text copy throughout the site. Having an SEO friendly website helps HHHC show up higher in the organic search results when people search for "hospice care in Merrimack NH," "home care in Nashua NH," and other important keyword phrases.
An Easier Way to Find Home Care Services
As visitors navigate through the website and explore the many ways HHHC helps patients and caregivers, the pages are designed to provide a warm, visually appealing, and easy-to-follow introduction to HHHC's extensive range of expert home care services. Each service is accompanied by an eye-catching image, brief description, and call-to-action that encourages prospective visitors to learn more.
From there, visitors can click-through to detailed service landing pages where they'll find more specific information about HHHC's home care services.
Encouraging Donations from the Community
HHHC relies on contributions from the community so that they can continue to make a difference in the lives of those they serve. The "How to Help" section uses a professional layout that visually and verbally conveys the various ways people can make a contribution towards HHHC, be it through monetary donations, memorial gifts, volunteering, or attending/sponsoring events.