Meyer and Fuller PLLC is a law firm in Lake George, NY, serving clients from the Saratoga and Glens Falls region north to Plattsburgh. Having a clean, professional attorney website that helps instill trust in prospective clients is essential for law firms large and small, which is one of the many reasons Meyer and Fuller PLLC turned to Mannix Marketing for their new website.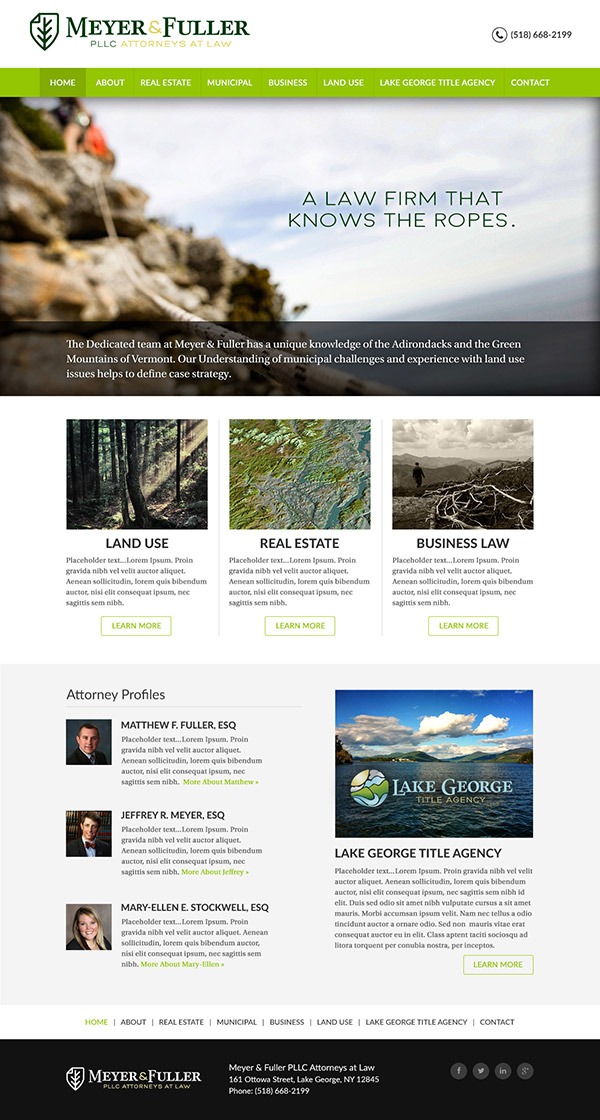 Attorney Website Design for Law Firm in Lake George, NY
Many law firms rely on their website as a source for new business. Of course, the website needs to be designed for conversions so that visitors can take the next step of contacting the firm. The firm's phone number is prominently displayed near the top of every page on the website, making it easy for visitors to call the firm.
Moreover, the website is designed to help visitors quickly and easily find the practice areas that best match their needs. Strategic calls-to-action and an easy-to-use navigation menu showcase the firm's core practice areas, including land use, real estate, business law, and more.
The website also needed to help Meyer and Fuller PLLC build trust with prospective clients. Visitors can find attorney profiles featuring professional photos and biographies of the Meyer and Fuller team and get to know what makes this team different from other law firms.
Today, people could be searching for lawyers from their desktop, tablet, or smartphone device, which means attorney websites need to be user-friendly on all different types of devices. Meyer and Fuller's website uses mobile-friendly responsive design to ensure a user-friendly experience on any device.