The Olde Schoolhouse Daycare provides daycare and before-and-after school programs for children in the Scotia, NY area. When Olde Schoolhouse Daycare contacted Mannix Marketing about a new website, they wanted an updated look with a welcoming, fun, and educational feel that would convey the Olde School House Daycare's commitment to providing quality childcare and preschool programs.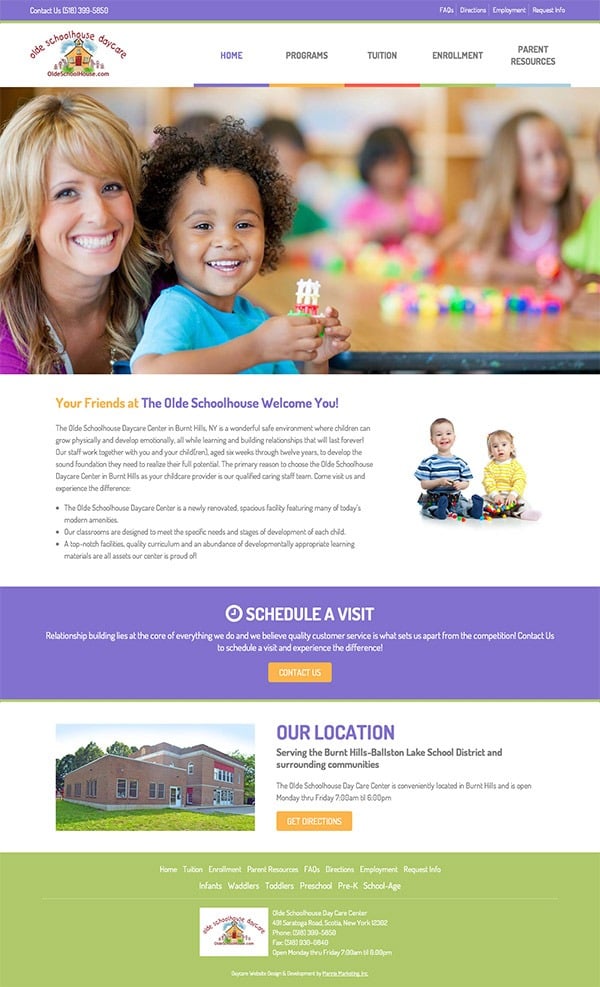 New Educational Programs Website Captures Whimsical Playtime & Excellence in Preschool Education
Olde Schoolhouse Daycare had several goals for their education website redesign:
Increase visibility of childcare and preschool programs
Generate inquiries and make enrollment easier
Attract prospective educators with career listings
Visually convey the quality of their programs, culture, and mission
To achieve these goals, Mannix Marketing designed a site with easy navigation, lots of white space, and plenty of bright colors. Each program page is search engine friendly and includes a contact form so the Olde Schoolhouse Daycare staff can collect information and reach out to prospective enrollees easily.
The website is designed to prioritize and achieve all of the goals that Olde Schoolhouse Daycare communicated to Mannix in discovery meetings. For example, a top navigation was also added to the page for resources like employment opportunities, FAQs, and directions. The website design for the top navigation was purposeful: these links are easy to find but not the focus of the page, as they are part of the secondary purpose of the website. Instead the eye is immediately drawn to the different programs offered by Olde Schoolhouse Daycare and the excited, engaged children and teachers in the website's hero image.
Partner with Us Today and See Your Business Thrive Online
Ready to get started or want to learn more about how we work with clients? Let's get it scheduled.