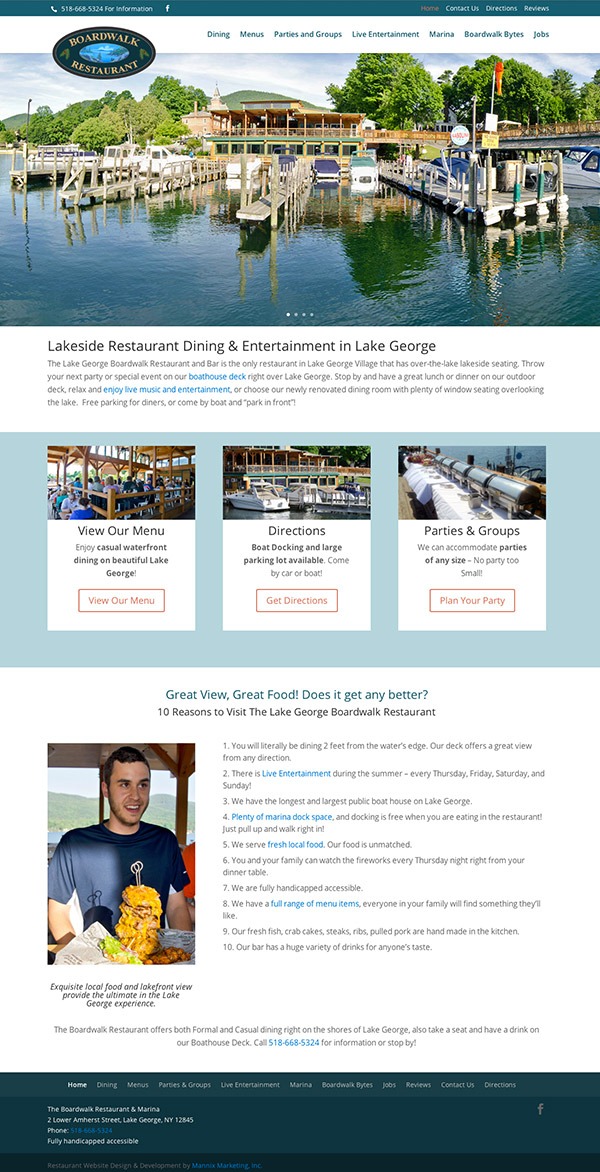 The Results
As the only restaurant in Lake George Village to offer over-the-lake dining, the Lake George Boardwalk Restaurant and Marina has quite the curb appeal. Their website, however, was a different story, so they reached out to Mannix Marketing for a clean, modern, and easy-to-use website to help potential guests discover their lively lakeside restaurant situated on the beautiful shores of Lake George.
Easy-to-Use, Mobile-Optimized Website for Lake George Restaurant
Today, visitors can quickly and easily use the new website to explore the menus, view the live events and entertainment schedule, and find interactive driving directions to the restaurant. Optimized for mobile devices, the new responsive website ensures that the Lake George Boardwalk Restaurant and Marina can effectively cater to the growing population of on-the-go smartphone users.
Keeping visitors informed of frequently changing menus used to be a hassle with the old website. Today, the Lake George Boardwalk Restaurant can easily update their menus, pricing, and other information on the website through a user-friendly content management system.
Search Engine-Friendly with SEO Best Practices
As part of the website redesign process, we optimized the new website with some critical Search Engine Optimization techniques to help the restaurant stand out in the search engines. By creating an SEO-friendly website, potential guests have a better chance of finding the Lake George Boardwalk Restaurant and Marina when they search for waterfront restaurants in Lake George.
>Mannix Marketing
We are very pleased with the design and functionality of our new website! It has been a pleasure working with your team. You have helped bring our website back to life and showcase our business in a very vivid and relevant way. I would highly recommend anyone looking for a new website or for SEO to contact Mannix Marketing!
Kim Porcaro | Adirondack Tree Surgeons