Trout House Village Resort

Redesign Social and Advertising Increases Traffic by 78%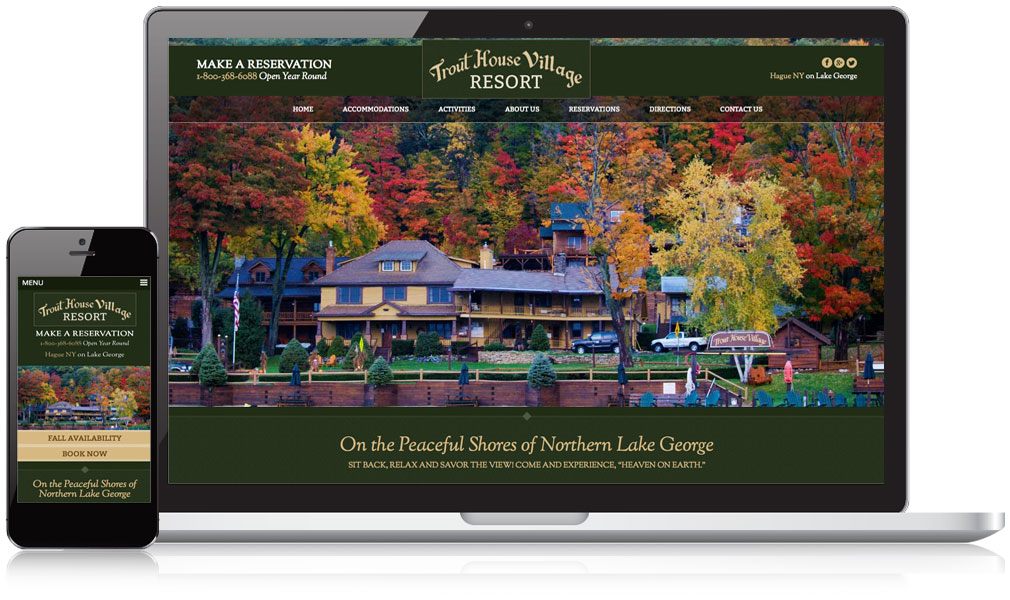 Located on the beautiful northern shores of Lake George, the Trout House Village Resort provides a 5-star lodging experience for travelers year-round.
Custom Website for Trout House Village Resort
The Results
78%More Site Visitors
27%More Page Views
37%More Organic Traffic
A modern, streamlined layout helps convey the uniqueness of the resort, its amenities, and of course the impressive line of lodging options. The new website also uses custom page layouts to help travelers explore the Trout House's unique accommodations. Each lodging option features its own page with a custom designed layout that displays a photo gallery of room images, a clear, easy-to-read description of the room, and a seasonal rates table that's easy for management to update on their own. Of course, the prominent call-to-action buttons and easy-to-find phone number for the lodge help travelers quickly and easily check availability and make a reservation- all in an effort to reinforce the goal of their new website: to convert more lookers into bookers.
Redesigns Produce Amazing Results, But when combined with Digital Marketing, the Results Compound
By using influencer LakeGeorge.com's social media audience, we were able to increase their leads from social media by 235% and by increasing advertising on LakeGeorge.com, we were able to improve their referral traffic by 449%!
Partner with Us Today and See Your Business Thrive Online
Ready to get started or want to learn more about how we work with clients? Let's get it scheduled.