Women's Care provides obstetrics and gynecological care to women in all phases of life. When they contacted Mannix Marketing for a professionally designed medical website with Search Engine Optimization (SEO), their goals were to help educate people about their practice and services and to get found online when prospective clients searched for gynecologists and obstetrical care in Glens Falls and Saratoga Springs, NY.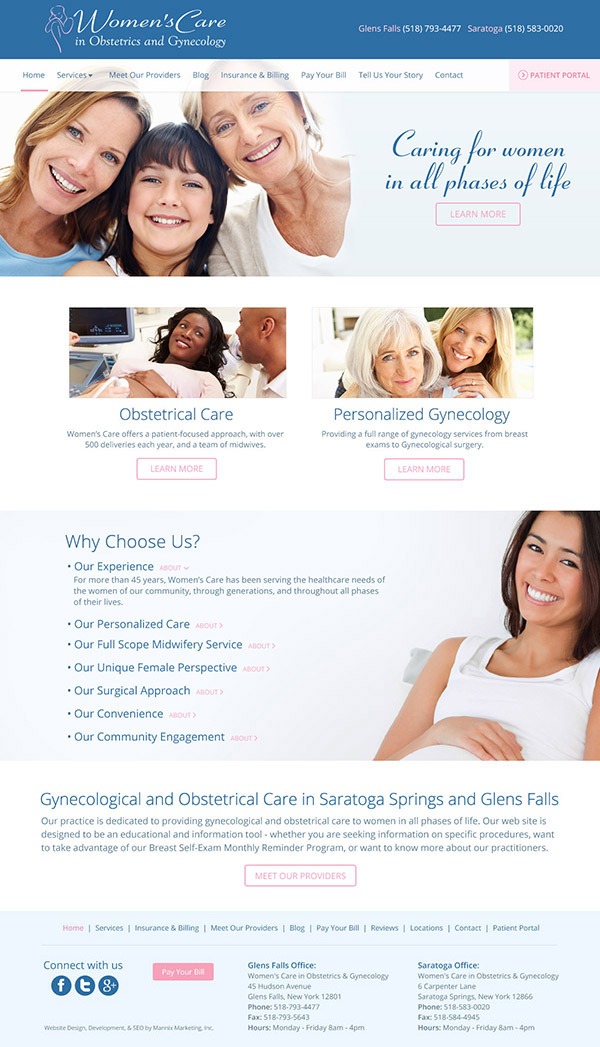 Website Design and Development for Obstetrics and Gynecological Care Practice
The new website introduces visitors to the practice's primary services, what makes Women's Care unique, etc. The light blue and pink color scheme is designed to create a warm and welcoming feel.
Serving women in all phases of life, their website has to be user-friendly across age groups. A clean navigation menu, easy-to-read fonts, and prominently displayed buttons allow visitors to quickly and easily navigate the website so they can learn more about the practice and its services, find directions to the offices, access the Patient Portal, and more!
Meet the Providers
Want to learn more about the team at Women's Care? The website features professional staff photos and biographies that introduce prospective clients to the doctors, nurse practitioners, and midwives and add a personal touch to the online experience.
Professionally Displayed Services
The practice's services are displayed in a professional and visually engaging manner, using photos to depict the services and capture visitors' attention.
Because the website is built with mobile-friendly responsive design, the content on the site will automatically reformat to fit on desktop, tablet, and smartphone devices. In turn, this creates a user-friendly experience across devices, and can even improve the company's rankings in the search engine results.