What You Need To Know Before March 30th
Remember when Facebook rolled out the Timeline Profile? Well, on March 30th, all Facebook pages will get this new design. This could be problematic for your business if you don't know what to expect, and how to prepare for it. The following article will explain most of the changes, and give you some ideas for making the transition an easy one. First, check out the screenshot of a timeline for Facebook business page below. I have marked this up to show you what's new on your timeline page.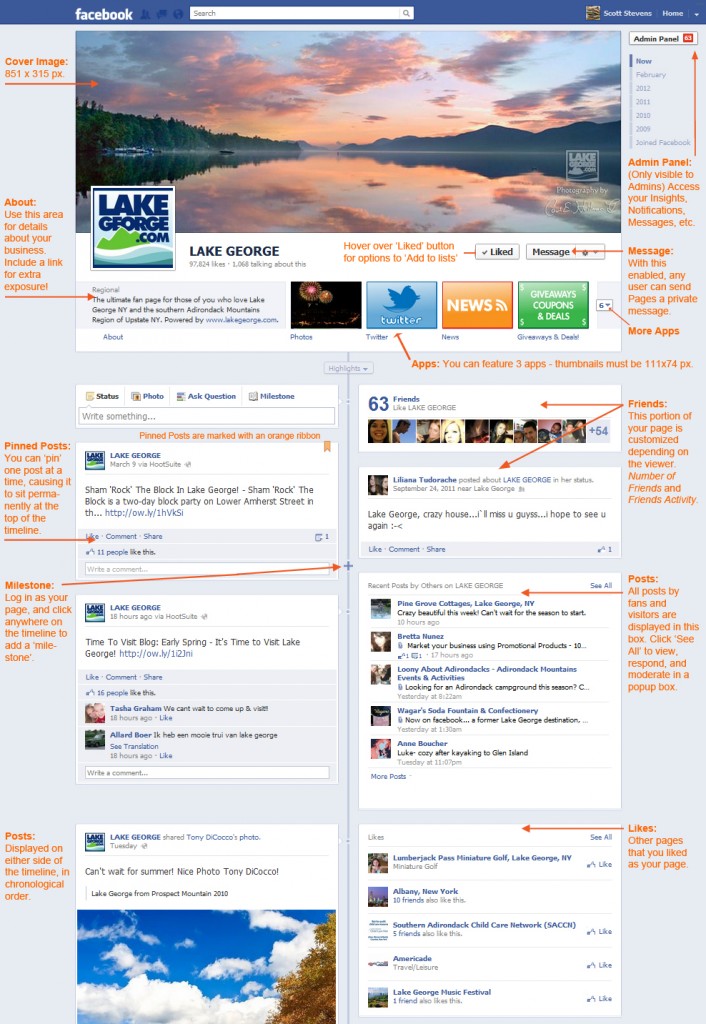 First thing first, you can view your new Page Timeline now by clicking the Preview button at the top right, in the Coming Soon box. This will not change your profile yet, it just lets you see what your timeline will look like so you have a chance to optimize it before March 30th. If you have everything set up and ready to go, you can publish your timeline at any time prior to March 30th by clicking Publish Now at the top right of your timeline preview.
Cover Photo
The first new feature you will have to implement is the Cover Photo. Dimensions for the Cover Photo are 851 x 315 pixels. I suggest you crop a photo to these exact dimensions, rather than leaving it up to Facebook (cropping is sloppy, and sometimes distorts images). There are also specific rules for Cover Photos that you must be aware of. You may think that this is the most valuable space on the page, and that it offers the perfect promotional opportunity. Not the case. Cover Photos cannot contain the following:
Price or purchase information – "25% Off" and "Find it at our Website" are prohibited.
Contact information – web addresses, as well as email and mailing addresses are prohibited.
References to interaction – Like, Share, and other Facebook site features are prohibited.
Calls to action – "Get it Now!" and "Tell your Friends" are prohibited.
The restrictions are rather tight, but in the interest of keeping this a social network, and not an advertising network, I agree with them. There are a lot of fun cover photo ideas out there, check out what Coca-Cola and Harley-Davidson have done. Look around and have some fun with it!
About
One of the most valuable pieces of real estate on your new Facebook timeline is the About section. The old About section lived on the left side of your page underneath the list of tabs, and was limited to 70 characters. The new About section give you 100 more characters to work with (170 total) and resides directly below your profile image. You can change this by going to your Admin Panel (more on that later) and clicking Manage > Edit Page. You should certainly include a link to your website in this About section, for added exposure.
Updates & Posts
Before your timeline is published, you will be able to backdate posts to fill in empty space. Do this by adding a post to your page, clicking the pencil icon, and use the Change Date option. Anything that you post on your wall can be highlighted, which expands the post to span both columns of the timeline. This can be achieved by clicking the star icon at the top right of the post.
You can also Pin a post to the top of your timeline. This can be used to bump an old post back up to the top, or to stick a welcome message there permanently. Do this by clicking the pencil icon on any post, and selecting Pin to Top.
If you use a third party app to update your Facebook page, you will have to manually break each post up into an individual story. Otherwise, all posts by your app will be grouped together. Hover over the group of updates, and click on the pencil icon and select View Individual Stories. You will see each story, click on the small circle to the right of the story you want to feature, and select Highlighted on Page.
Posts from others will all be grouped together on the right side of your timeline. To remove a post, just hover over it and click the small X and it will be deleted. If you would like to feature a post (this includes any photos that your fans might upload) go the Admin Panel > Manage > Use Activity Log. Find the post you would like to feature (they are organized chronologically), click on the circle, and select Highlighted on Page. You can then find the post on your timeline, and click the star to remove the highlight and move the post onto one of the single columns.
Admin Panel
The Admin Panel is like a control panel for everything on your page. Here, you will see notifications, messages, insights and more. One section of the Admin Panel is devoted to showing you the latest likes on your page. This is a nice feature, and you can see all the people/pages that like your page by clicking See All.
Messages is a huge change for Facebook Pages, and will also show up in your Admin Panel. Messages will allow your fans to interact with you directly, and privately. You will want to be sure to check this regularly and correspond with any of your fans that would like to interact with you. You can choose to hide the ability to message your page by changing the Show Message setting in Admin Panel > Manage > Edit Page > Manage Permissions. I don't recommend you do this, as the two-way, private communication you gain through this function could be quite useful.
Edit Page option on the Admin Panel will bring you to the same Edit Page options that you saw on your old Facebook page. You can also view your Insights in the Admin Panel.
Apps & Tabs
These changes in your page may be the most crucial. There are several changes to the Apps & Tabs section of your page, and you may have to do some work to get everything where you want it.
You will no longer be able to have a Default Landing Tab for your page. This eliminates the like-gate, and is an unfavorable change in the eyes of many. If you would like to direct users to a specific tab on your Page, you will have to give them the full URL from that tab.
Tabs are wider. Tabs on your new timeline will be 810 pixels wide, quite a bit larger than the old tabs. If you do not optimize your tabs to fit this width, the old format will just be centered and surrounded by white space.
Only three tabs can be shown at all times. The Photos tab is locked, and cannot be moved. The next three boxes can be used to feature whichever app or tab you would like, and can be changed by clicking the number to the right of the tabs, then clicking the pencil icon for the app you would like to move, then selected whichever tab you would like Swap Position With.
Icons for your tabs have changed size, and will need to be updated. The new size is 111 x 74 pixels. You can design your own icons or download a free public domain image from the web. When you have a file that you would like to use for the app icon, click the pencil icon next to the app, then click Edit Settings. You will be able to upload an image here.
If you are having trouble setting up your timeline for Facebook business pages, feel free to contact Mannix Marketing, and we'll give you a hand!
Have you discovered any other additions to the Facebook Timeline for Pages? Is there anything that you like, dislike, or wish to see coming in the future? Comment below!