Hotel & Tourism Marketing Experts
Specializing in Resorts, Events, Attractions & Destination Organizations
Strategy, Audits & Consultation
Web Design
Google and Bing PPC
Meta & Hotel Advertising
Display Advertising
Social Retargeting & Paid Display
Content Marketing
Local SEO
Local  & Niche Advertising
Social Media Management
Email Marketing
Conversion Rate Optimization
CRM Integration & Automation
Reputation Management
GA4 Dashboards for ROI and ROAS Reporting integrating Ecommerce & Reservation Platforms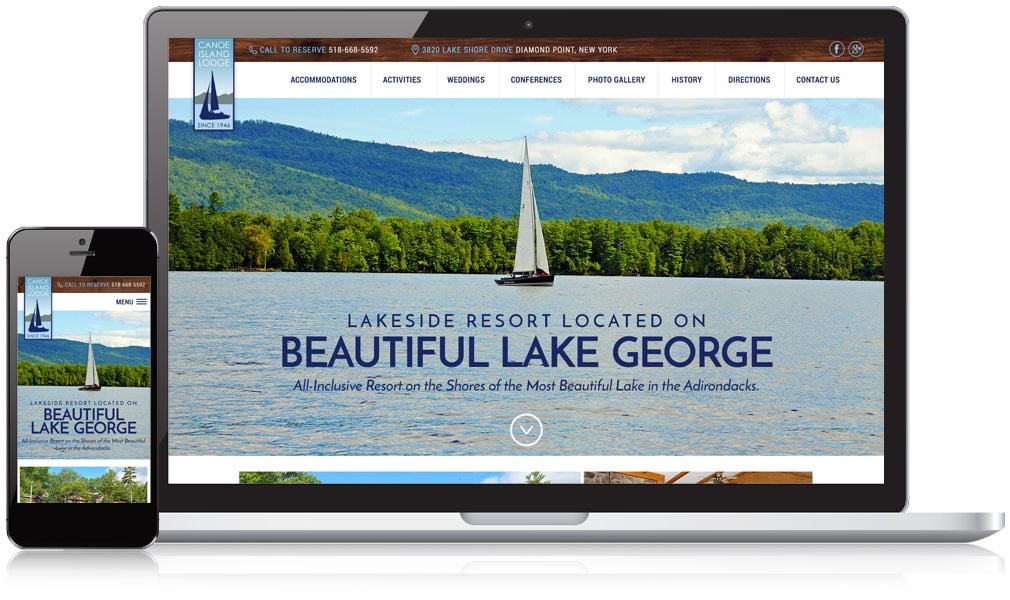 Success Story
Canoe Island Lodge
124% Increase in Traffic
155% Increase in Visitors
57% Increase in Referrals
What Our Clients Are Saying
Mannix Marketing is our only go-to for all our advertising, website development, SEO, and social media consult needs. They are the Adirondack business specialists for sure; professional, knowledgeable, skillful, and responsive.
Sharon Taylor, Owner | The Fern Lodge
It was a no-brainer to bring Mannix Marketing on as a key promoter of the Adirondack Wine and Food Festival. Not only is Mannix home to the region's top websites people visit when they're looking for "what to do" in our area, but Sara, Valleri and their team are great to work with and know exactly what needs to be done to get people interested in your event. We marketed our event via their event listings, display ads, banner ads, social media marketing, email newsletters and more. If Mannix had not been there to play an integral role in the Marketing of the Adirondack Wine and Food Festival, there is no way we would have been successful in bringing 2,500 people to our first year of this event.
Sasha Pardy, Owner | Adirondack Festivals LLC
Our new website resulted in us being found in the top of the search engines. They implemented an SEO plan that reached the masses. The combination of both strategies paid off. Our website got rave reviews from our guests and lodging seekers. Our rank increased by 220% according to Alexa. The Mannix team implemented a high season paid search program; a small investment resulting in a big return. Because of the website and SEO, despite poor summer weather conditions, our inn had the best year in 9 years of business. We beat our best room rental year by 106 rooms and still counting. Website visits more than doubled and some days it even tripled. For a seven room bed and breakfast, open only eight months a year, this was HUGE!
Joe and Patti Silipigno | Boathouse Waterfront Lodging
Mannix Marketing is a great team of folks who do excellent work. We get found easily and it is seen in our business as we have grown substantially ever since we started doing business with Mannix.
Garth Ellms | Ellms Family Farm
Our hotel management company utilizes the services of Mannix Marketing for website development, website maintenance, and social media services and SEO. The team is professional, creative, prompt and thorough. They work well with our company and me, and we have been very pleased with everything they have done for us. I would not hesitate to recommend Mannix Marketing to any of my friends and colleagues.
Linda Komornik | Great American Hotel Group
The entire team at Mannix was a pleasure to work with and truly guided our team in the proper approach to the new website.  The ability for Mannix to achieve our goals of a unique design, ADA compliance, and quality guest experience was fantastic and we all feel it will have positive impacts on our reservation conversion for years to come.
Tyler Herrick, General Manager | The Queensbury Hotel
Let's Get Started.
Interested in learning more about how our tourism marketing specialists can help? Let's talk.