Everything Under Foot provides remodeling, flooring, and handyman repair services for commercial and residential projects in the Glens Falls, Saratoga, and surrounding regions. After 20 years in the industry, it was time for Bill's company to establish a professional online presence, showcase their services and craftsmanship, and ultimately attract new leads from the web with the help of a brand new, easily updatable, mobile-optimized responsive website.
Although we'd like to take full credit for their instant success, we have to say that being well respected and well-liked in a small community also has it's benefits.  A great website + awesome business owners = SUCCESS.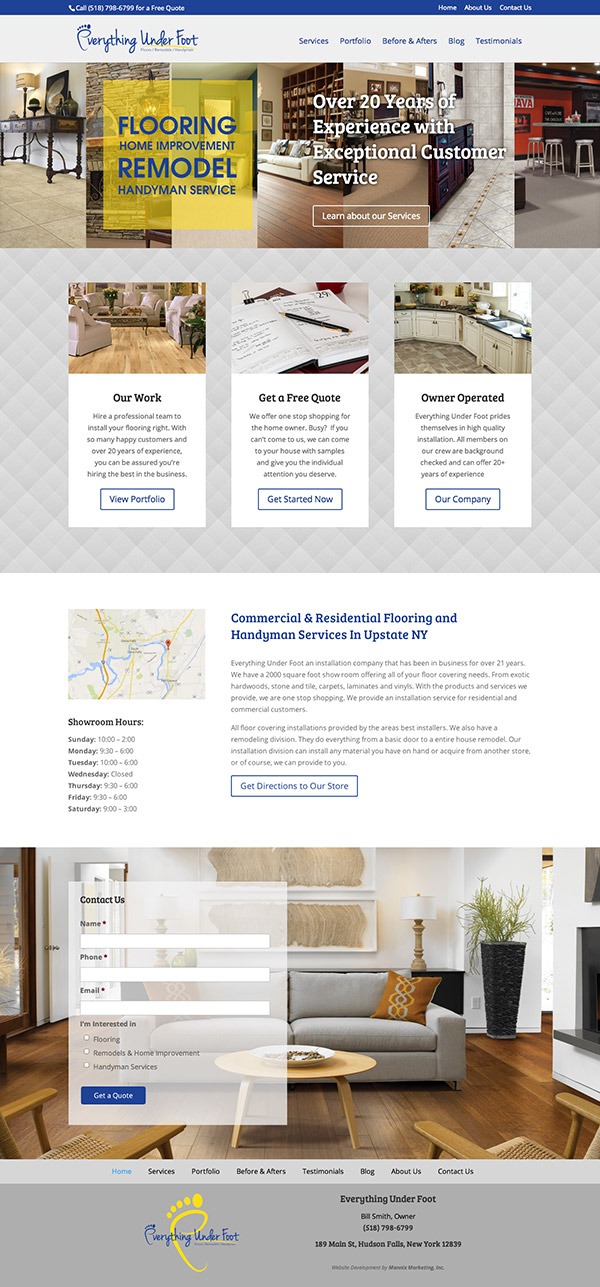 Professional Website for Local Remodeling and Repair Business
During our conversations with Bill it became clear that building trust through the website was a high-priority objective, so we made sure to promote Everything Under Foot's 20 years of experience directly the home page with a prominent call-out message. In addition, to show potential customers the quality of the company's services, targeted call-to-action buttons send visitors to a visually captivating project portfolio.
Strategically placed lead generation forms encourage potential customers to contact Everything Under Foot from any page on the website. Because these forms allow visitors to select the services that best fit their needs, Everything Under Foot can segment new inquiries on a "lead-by-need" basis.
After completing new remodeling and flooring projects throughout the upstate NY region, Everything Under Foot can easily add the latest project photos on to the website, thereby helping potential customers get a visual appreciation for their skilled craftsmanship and attention to detail.
>Mannix Marketing
Sara and her staff without a doubt, do a phenomenal job!!!
Melody Sutliff Smith | Everything Under Foot