Takundewide Cottages

Resort Redesign Increased Bookings: 100% Booked All Summer with Rental Revenue up 8%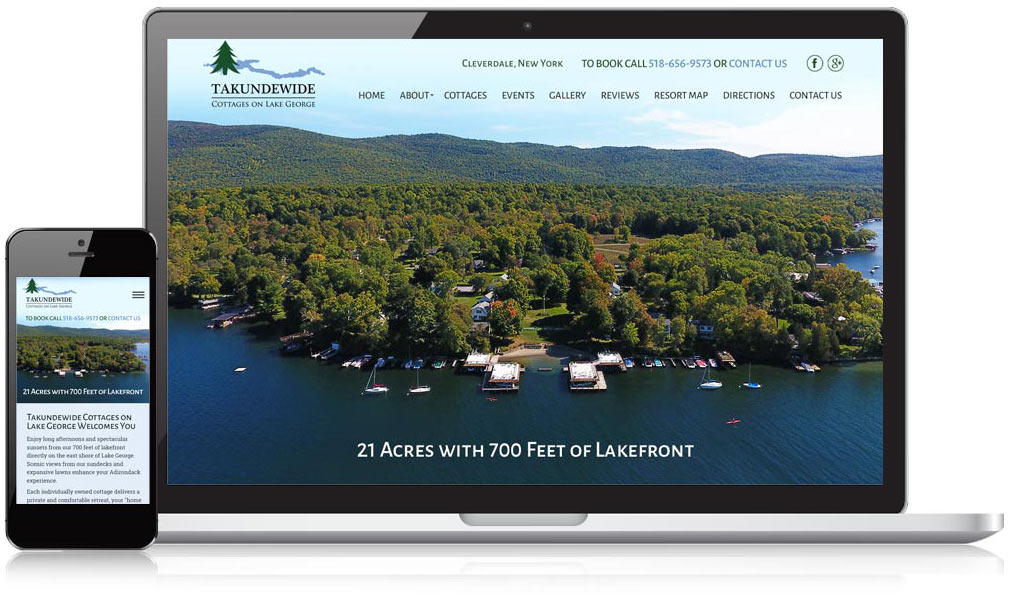 Custom Website for Takundewide Cottages
The Results
8% Increase in Revenue
100%Booked for the Summer Months
2xMore Organic Search Traffic
Takundewide Cottages on the east shore of Lake George features 21 acres of land in the Adirondack Park and 700 feet of lakefront property making it the perfect "home away from home." For over 60 years Takundewide Cottages has been the Lake George destination for family vacations, weddings, reunions and romantic getaways.
Calls-to-actions throughout the site encouraging visitors to check availability or request a reservation ultimately leading to a booking. The redesign gives each cabin its own slideshow gallery, a brief description, individual rates and a user-friendly availability calendar all on the same screen to help the customer find the perfect cabin at the right price.
Traffic more than doubled!!!!  8,691 visitors from 1/1/2016 to 11/2/2016 compared to 17,772 visits same time in 2017!!!! 104% increase based on total sessions
Unique visitors to the site increased 123%
Page views increased 67%
Pages per session and time on site lowered but that means they found what they wanted quicker!
Bounce rate was good but was even better by almost 2%
Traffic from LakeGeorge.com TRIPLED!!!!
Traffic DOUBLED from organic search
Revenue up 8%
100% Booked from 6/24/2017-9/4/2017
Our gross rental revenue was up 8%.  And our rental rate also improved—we were 100% booked from June 24 – September 6 and had a robust spring and a good fall.  We actually had fewer properties to rent this year so we were expecting a small decrease in the rental revenue.  However, our results surpassed our expectations.  We found the process of working with your firm to create the web page very collaborative and obviously successful!
Lynne Mason | Takundewide Lakefront Resort and Cottages
Partner with Us Today and See Your Business Thrive Online
Ready to get started or want to learn more about how we work with clients? Let's get it scheduled.