As marketers, we all know the value of creating useful, well-crafted content. Many of us are also familiar with the struggle that sometimes accompanies developing and assembling well organized, relevant and stimulating content for clients, and even for our own organizations. It can be challenging to develop high quantities of high quality content – but when you're able to do so, it's incredibly rewarding, both for you and your clients.
So how can you crank out high-quality, useful and well organized content efficiently? How can you make the most of your time and effort when blogging for your clients or on behalf of your organization?
Behold 5 blog types that will make content creation (and your life as a marketer) easier:
1. Content Curation
Content creation often involves extensive research. If you're struggling with a post, try curating the informative, relevant content you've come across elsewhere into a go-to piece for your audience. Pull relevant quotes, link to relevant articles and give your audience a clear picture of the perspective and ideas that are out there related to the topic you've chosen to focus on. Be sure to credit the sources you pull information from, put ideas in your own words and offer your take on the information you collect. While blog posts featuring curated content are sometimes a bit easier for marketers to assemble, they are still immensely valuable for audience members – who will likely be excited to find all the information they are looking for collected neatly in one place! There's also a chance that the individuals you cite in your post might promote your post or provide you with valuable backlinks!
See an example of a content curation blog post here:
2. Lists
While list posts are often relatively easy for marketers to assemble, they are also a favorite among consumers. Providing content in list form – rather than in long-winded paragraph form – makes information more easily accessible to consumers. They can peruse your content quickly and focus in on the items that are most relevant or interesting to them.
See an example of a list blog post here:
3. Compilations
When working to understand a topic or concept, having access to a variety of perspectives can be incredibly helpful. That is what makes compilation blog posts so popular and effective. By gathering the ideas and thoughts from a number of people and compiling them, you are able to share the task of developing ideas and putting them articulately into words all while still developing a valuable resource for your audience. Plus, you can broaden the reach of the post by having each individual who contributed share and promote the post within their network.
See an example of a compilation blog post here:
 4. Resource Recommendations
Know of some great resources that your audience members would likely be interested in? If so, then share them! From lists of the best places to find free stock photos to book recommendations, suggestions of top tools of the trade to sources of inspiration, the possibilities are endless. Your customers will appreciate your willingness to share, pass your post on to others who might make use of it, and possibly even bookmark your post for future reference if they find it particularly useful!
See an example of a resource recommendation post here: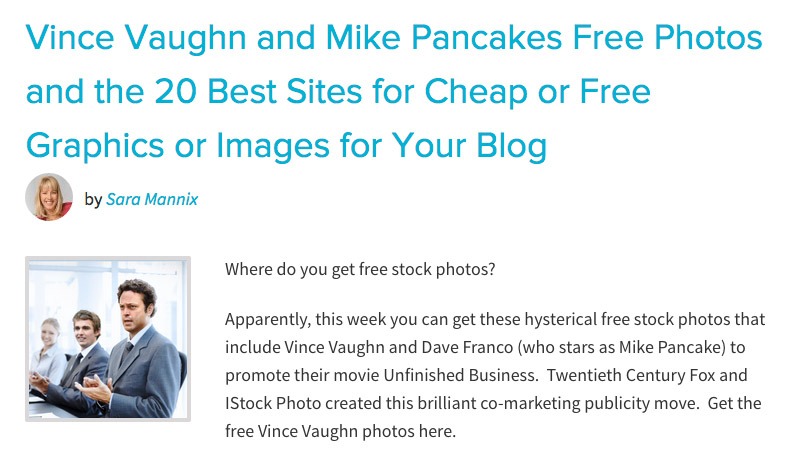 5. Tutorials
How-to and 'do-it-yourself' posts are incredibly popular – and for good reason! Many people search the Internet hoping to find step by step instructions for how to do something. Whether that something is how to change a flat tire or how to make the most of the marketing content you create, providing the information your consumers are looking for is powerful! It helps them to solve a problem – something they couldn't have done without your help. Tutorial posts help you to create a relationship with your followers and establish yourself as a credible expert. They also help to increase brand awareness – and hopefully guide your audience members back to your site for additional DIY help in the future.
See an example of a tutorial post here:
Get Help With Content Creation!
In the inbound and digital marketing world, content is truly king. It helps to to broaden awareness of your company, attract consumers to your company and ultimately transform those consumers into loyal customers. Need help with content creation for your business? Contact Mannix Marketing today! Our digital marketing strategists are skilled in content creation and can help you produce the content you need to market your business successfully.
Looking for more tips on how to make developing marketing copy for blogging easier? Check out our follow-up post: 5 MORE Blog Types That Will Make Content Creation Easier.