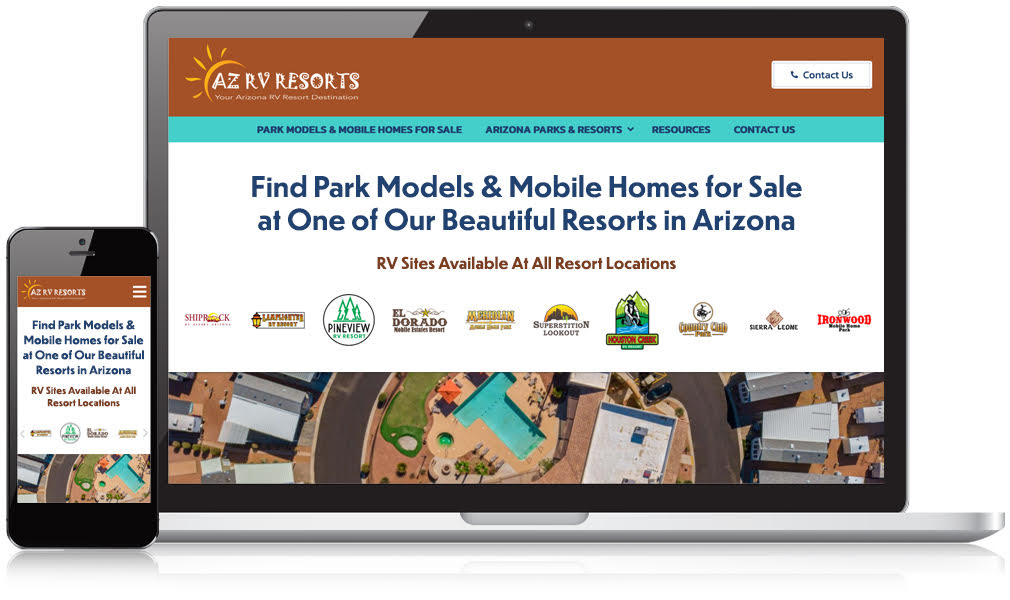 RV Resort Website Redesign Gains 48% Increase in Traffic
Arizona RV Resorts, run by Keith Management, is a website promoting the various RV parks with homes for sale by the property management firm. They came to Mannix with a website that needed significant improvement in site speed and user experience. The "Homes for Sale" section of the existing site also lacked the ability for users to easily sort and view the different models available at the different resorts.
The Results
88%Increase in Total Pageviews
48%Increase in Total Traffic
85%Faster Site Speed
Mannix's digital marketing team revamped the site with the focus of highlighting the park model homes available and the affordable price points. Large calls-to-action to call or inquire via email were added throughout the site enticing web visitors to contact the property management firm for more details.
A strong emphasis on website speed was very important in the redesign to ensure the site met or exceeded Google's new Page Experience Algorithm requirement. A better website load speed provides a more enjoyable user experience and helps prevent users from bouncing off the website in frustration.
Arizona RV Resorts' website was also designed with large photo galleries of the different RV resorts, as well as galleries of each park model home available for sale. Now, the user can narrow their search by price, region, or park location –- making it easy for a potential home buyer to find exactly what they are looking for!
After the redesign, the website gained over 48% more overall traffic, 34% more organic traffic, and 88% more page views over the previous year. The "Homes for Sale" section also became the most visited page (after the homepage) which was one of the main goals of the website revamp. In addition, site speed improved dramatically; the site went from an incredibly slow 9.9 seconds to load, to now just 1.4 seconds.
Keith Management also wanted Mannix to increase their marketing with Google Paid Search. Including this in their program, they saw substantial traffic coming from PPC medium helping to drive more leads and inquiries for their properties.