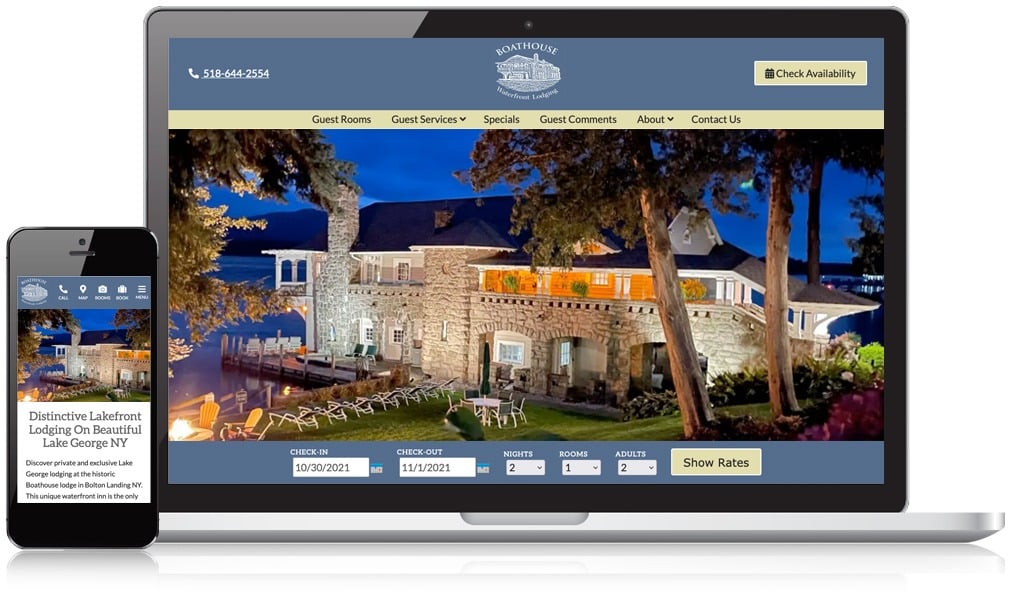 New Website Design Results in 65% Faster Load Time & 13% more Traffic for Lake George Waterfront Lodging
Boathouse Waterfront Lodging, formerly the Boathouse Bed & Breakfast has been a long-time client of Mannix Marketing for nearly 20 years! When the time came that they needed a website redesign for their bed and breakfast, they knew who they could trust. The Boathouse website had become visually outdated over the years, lacked ADA compliance, and Joe and Patti were ready for a rebrand, including their name, logo, and the overall messaging of the site.
Mannix took special care to rework the website design with the new brand image in mind. This included removing any mention of "Bed and Breakfast" and optimizing new keywords in their place. The new website prominently features photography of the historic boathouse, highlighting its beautiful location on the water. The site colors reflect the soft natural tones of the Adirondacks along with artistic iconography of the region. Silhouettes of pine trees and images of canoes, oars, and the Boathouses hand-drawn logo all compliment the charm of Bolton Landing. 
As with every Mannix website redesign, the Boathouse's new design is fast, responsive, and mobile-friendly. Before the redesign, the website rated a C for load time. After the new website launched they rated an A with 1.5 seconds of load time, 65% faster than before! 
Looking for a beautiful, fast website? Contact us today!
We have been clients of Mannix Marketing for close to 20 years.  It has been a pleasure to work with them, from our first website design to our current redesign and new brand change.   The Mannix Marketing team is professional and knowledgeable with a prompt response and solution to every question or need.   We wanted a wow effect on our new website, as it was on the old website and let us tell you we are not disappointed.  We would highly recommend Mannix Marketing for all of your website, social media, SEO, and digital marketing needs.
Joe and Patti Silipigno | Boathouse Waterfront Lodging