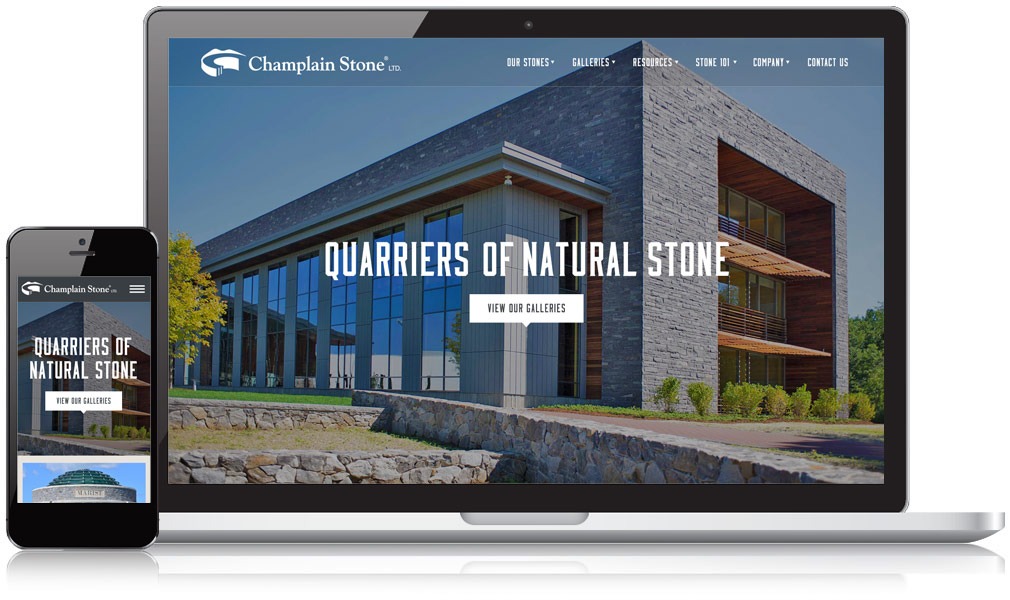 Website Redesign Results in 92% More Traffic for Adirondack Stone Supplier
As a supplier of quality Adirondack stone, Champlain Stone needed an updated website to showcase their products and make it easier for customers to ask questions and convert into buyers.
The Results
92% Increase in Overall Website Traffic
105% Increase in Organic Search Traffic
80% Increase in Pageviews
Mannix Builds Custom Website for Stone Supplier
Champlain Stone's old website lacked the wow-factor that their natural Adirondack stone has. They needed a website that highlighted their brand and made it easier for customers to learn more  about their stones and contact them for quotes.
The website design, with the goal to ultimately drive lead generation, aims to showcase the natural beauty of Champlain's Stone's natural Adirondack stone, answer customer questions, and drive conversions. Large images of the company's stones are used as a focal point of the website design in the header images throughout the site. The gallery pages were outfitted with sharing buttons so images can easily be shared among website visitors in addition to embedded lead generation forms throughout the site for quick and easy communication.
Champlain Stone's website is much more user friendly, and since it was designed to deliver an optimized user experience on all devices and screen sizes, it operates perfectly on mobile and tablet devices. With the addition of our foundational SEO services which come with every website development, Champlain Stone is being found more easily on the web, as evidenced by their significant increase in traffic in just three months since go live.
Website Redesign Wins Summit Creative Award
Mannix Marketing took home the Bronze Award for "B2B Website Design" in the Summit Creative Awards 2019 competition for their work on Champlain Stone's new website. The Summit Creative Awards is an international advertising competition that celebrates and rewards the work of small and medium-sized agencies. Entries are judged blindly by an esteemed panel of industry judges for strength of concept, quality of execution, and ability to persuade.
Looking for an award-winning website design company to take your marketing to the next level?