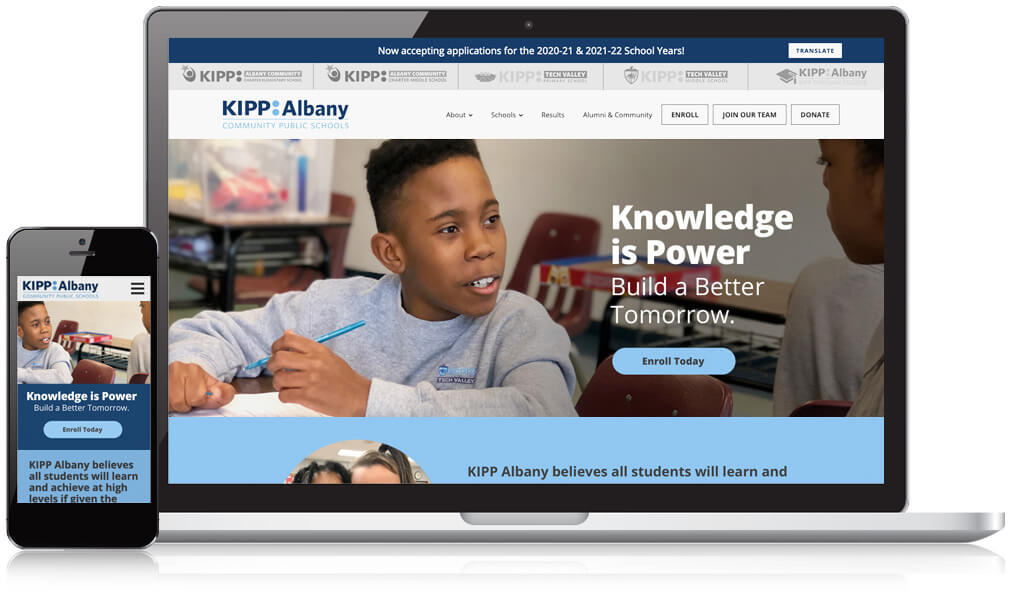 Charter School Marketing, Website & SEO Produced Increased Traffic & Recruitment
KIPP Tech Valley Charter School had recently merged with Albany Charter Schools to form KIPP Albany Community Public Schools when they turned to Mannix Marketing for a charter school website redesign, SEO optimization, and a content overhaul.
The key challenges for KIPP Albany were to clearly communicate why their approach to education benefits student performance, create content designed to boost enrollment and donations and smoothly integrate the merger with Albany Charter Schools into the new website.
Mannix Marketing approached the project by defining KIPP Albany's selling points and translating those attributes into targeted content. Strong calls to action highlighting student success were strategically placed throughout the website with a consistent message encouraging enrollment and donations.
The next step was to reach the online audience by supporting the message with an intuitive website navigation structure and using a platform that looked great on all screens and devices. A big part of the site architecture was to ensure the content management system (WordPress) made it easy for staff to update the website without having to rely on a site administrator.
Prior to the launch of the new website, the digital marketing team at Mannix incorporated search engine optimization strategies into the redesign to maximize exposure and drive relevant traffic to their new charter school website. Once the site went live the "baked in optimization" continued to generate new visitors and overall SEO metrics were impressive.