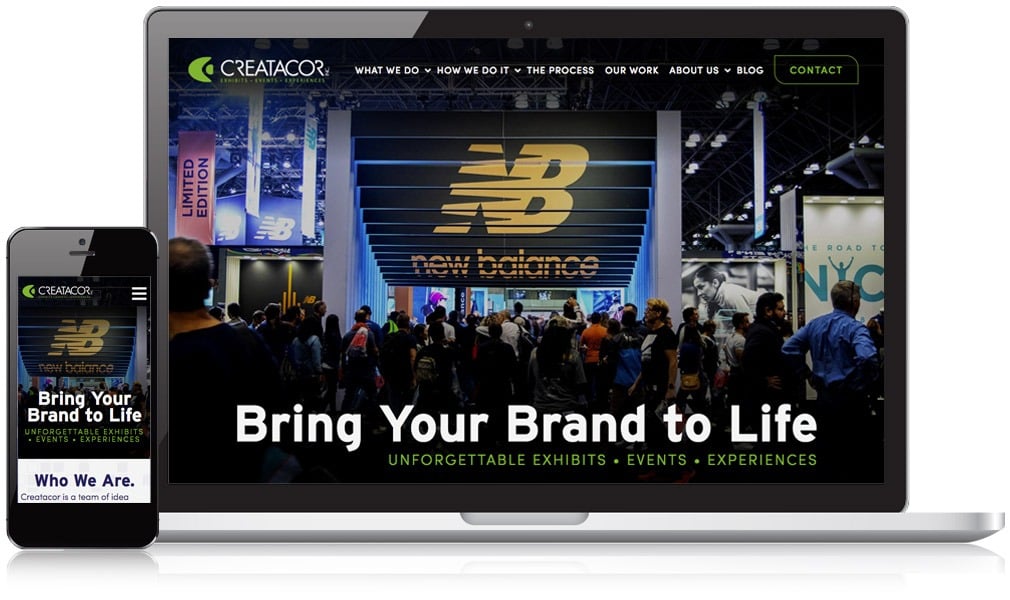 Website Redesign Increases Time on Site by 90%
Creatacor is a trade show exhibit company that brings to life engaging and interactive brand experiences  for trade shows, events, and retail installments. The company came to Mannix Marketing wanting a fresh, modern, easy-to-use website that visually and verbally communicated Creatacor's services and creativity, attracting more new client prospects.
The Results
62.5% improvement in page load speed
69% increase in pages per session
90% increase in time on site
The website redesign kicked off with a brand strategy session to learn more about Creatacor's goals, target market, and unique selling points. This was then used to create a strategic navigation menu and website design plan.
The entire website was custom-coded in order to ensure a fast loading website for a better user experience.  Creatacor's redesign features a bold and prominent navigation menu so that prospective clients could quickly dive deeper into the site. Clean, professional layouts were custom-designed to strategically position the company's most important talking points and calls-to-action on the pages. They also provide ample breathing room between content, images, and lead generation forms for a great user-experience. To encourage conversions,  contact information is made readily available on every page of the site along with a strong call-to-action message. The end result was a unique website that offered visitors an improved user experience, as seen by the increases in time on site and pages per session. Bounce rate also decreased by 15% after the new website went live.
Are you ready to create a website that stands out from the crowd, is user friendly, and showcases what your business has to offer? Give us a call at 518-743-9424 or fill out the form below to get started.