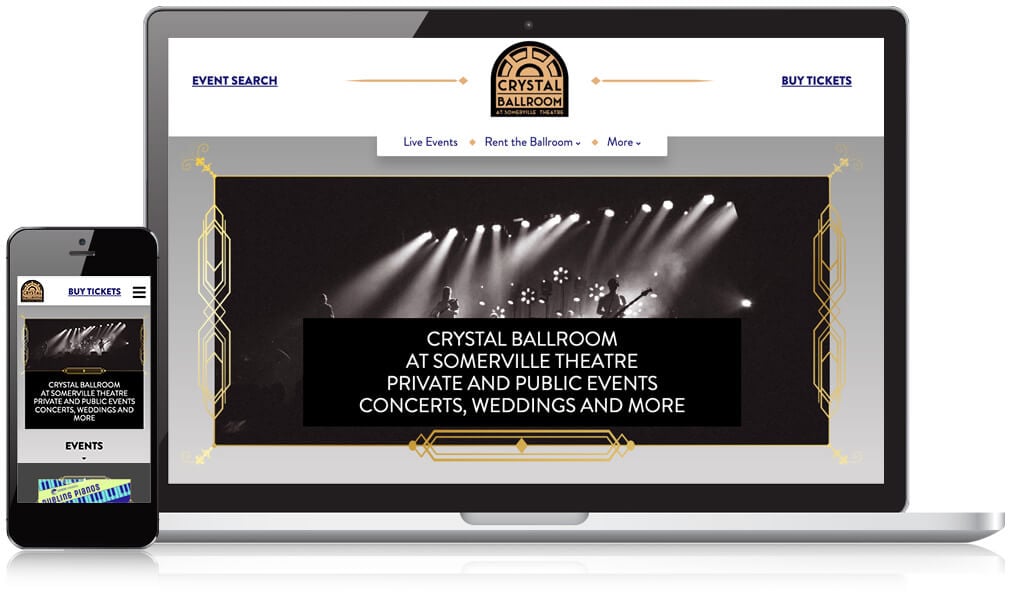 Newly Renovated Ballroom & Event Space Gets A Jazzy New Website
Originally built in 1914, the Crystal Ballroom is a magnificent event space within the Hobb's Building in Somerville, MA. The pandemic in 2020 enabled the ballroom to be rebuilt after being in disrepair since the 1980s. Now the splendor of the ballroom is back and plays host to countless live events, and can also be rented for private events.
With the renovation complete,  the Crystal Ballroom needed a website that represented the beauty and functionality of the revamped space.  Mannix paid homage to the character of the ballroom while equally providing information about the live events and rental space available.
It was also incredibly important to make the site ADA accessible. The site was built with the goal of meeting reasonable standards of the WCAG 2.1 AA code in order to be viewable and usable by those that are hearing or vision impaired. 
The new website is timeless just like the Crystal Ballroom itself. Elegant colors, fonts, and unique design details were used throughout the site which are resplendent of the beautiful venue. 
Just as important, you can easily search for events, buy tickets, or inquire about renting the space for weddings or special occasions.
Everyone at Mannix was a pleasure to work with – they have prompt and clear communications, a positive attitude, and most importantly – the finished product was exactly what we wanted.
Ian Judge | Crystal Ballroom