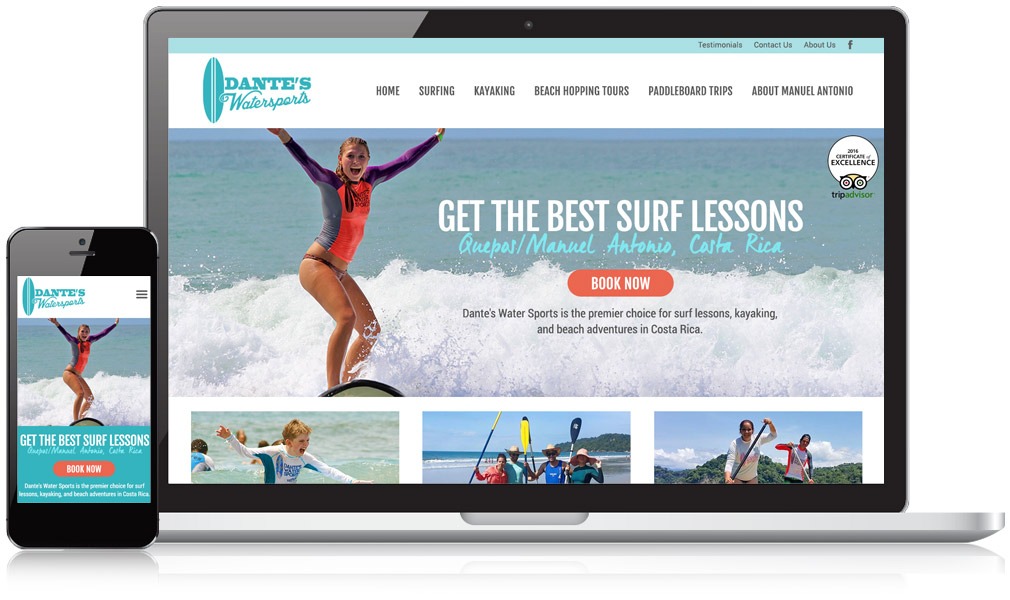 Water Sports Tour Company Enhances Online Presence With New Website
Since 2004 Dante's Water Sports has offered various surfing and SUP paddleboarding and Beach tours to guests and residents in Manuel Antonio and Quepos, Costa Rica. Finding continued success Dante and his team recognized the need for a greater online presence and an easier way for travelers to learn about the company and request reservations.
Development and Growth of Unique Brand
The custom design for Dante's Watersports new website captures the one-of-a-kind look that matches Dante's unique and fun brand. Using a combination of cool and warm colors along with easy-to-use, large call-to-actions the site keeps a mellow vibe while allowing travelers to navigate and learn about which adventure is right for them.
Located in Costa Rica there is no shortage of surf companies. Because of that, our main goal when developing the site was to focus on what makes Dante's Water Sports unique compared to his competitors and work to increase Dante's brand recognition. While surfing is certainly a large part of Dante's business, he also offers kayaking and paddleboard lessons as well as beach hopping and whitewater rafting tours. The new website design now lets customers easily see all of the services offered on the homepage in simple, large and effective call-to-actions. Beach hopping doesn't involve stress- neither should booking a dream adventure.