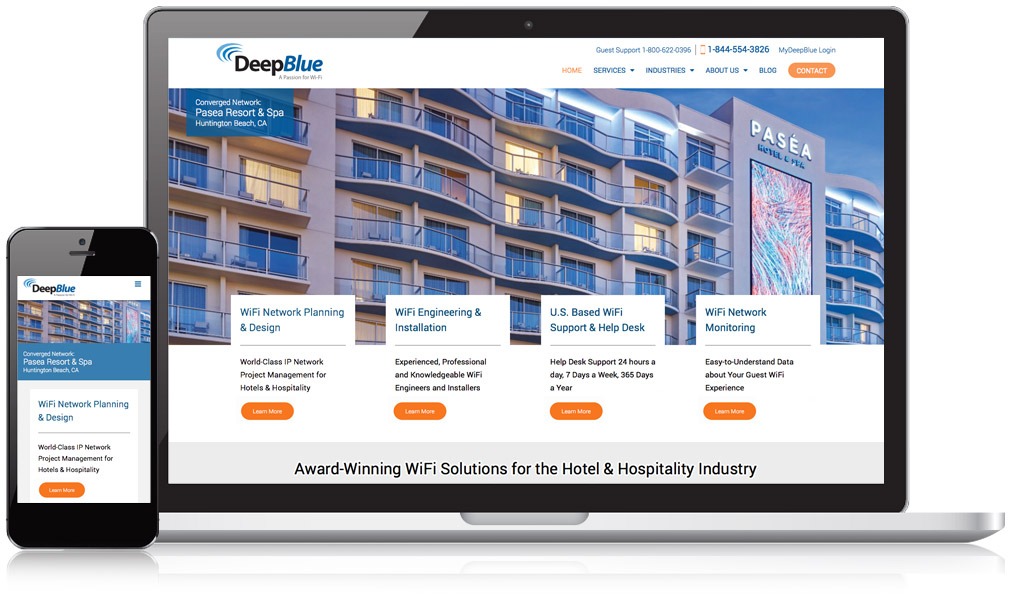 Professional Hotel WiFi Website for Industry Leaders
Deep Blue Communications is the leading WiFi provider for hotels, retail, entertainment venues, and marinas across the country. When it came time to revamp their website, they partnered with Mannix Marketing's design and SEO teams for a modern website to showcase their industry experience and drive customer leads.
The Results
22% increase in organic traffic (after 1 month)
65% decrease in spam traffic
38% Increase in organic (after SEO campaign)
Deep Blue Communications needed an updated website that reflected their 15+ years of experience in engineering, installing, and managing commercial WiFi networks. The new design features a modern and clean layout with an easy navigation bar and prominent call-to-action buttons. By implementing search engine optimization strategies, Deep Blue Communications's website was developed to help get more organic search engine traffic to their site to learn about the innovative WiFi solutions they offer.
Showcase Your Services
Unlike their prior website, the new design is streamlined and informational, so visitors have a clear understanding of Deep Blue Communications's commercial WiFi services. The improved site layout and navigation is based on user intent, so website visitors can easily view Deep Blue's products by their industry type and desired wifi services.
Achieve Results
The website's new design was built with marketing in mind. The design offers a click-to-call telephone number and four calls-to-action, "Learn More," "Contact Us," "Request a Site Survey," and "Request a Demo." These prominent calls-to-action buttons strategically create multiple opportunities for converting website visitors into leads.
Since the website went live, Deep Blue Communications has seen an increase in organic traffic by 22%.