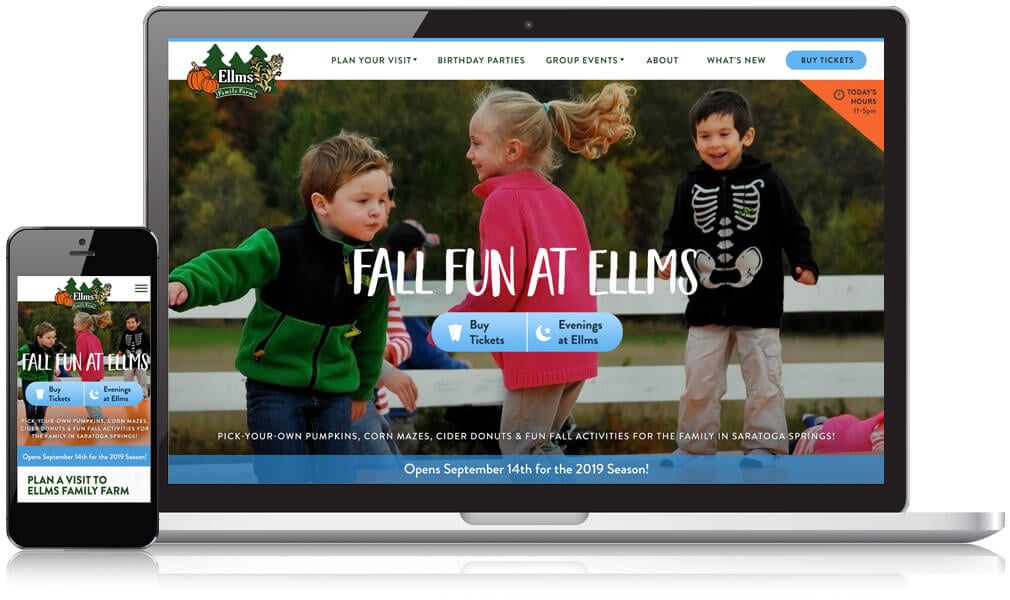 19% Increase in Overall Website Traffic
17% Increase in Pageviews
37% Increase in School Trip Reservations
Mannix Proposes Mobile-First, User-Friendly Design
Ellms Family Farm is a long-standing client with Mannix Marketing and, as happens with all websites over time, the design of the site had become outdated, and the functionality was no longer as user-friendly as it could be. In order to offer a cleaner, easier to use mobile experience, and provide website visitors with easy-to-find information about hours, tickets and directions to the farm, a website redesign was needed.
During our brainstorming sessions, we focused on website useability, ultimately recommending a mobile-first website design with sticky navigation menus and additional features to highlight hours and closures due to inclement weather. We also proposed an event calendar that would more clearly provide information about upcoming special events, and suggested adding a "What's New" section to help promote and call-out newly added activites for return visitors.
New Website Increases Traffic & Ticket Sales
The new website was launched prior to the opening of the 2019 fall season, and Ellms had their best year yet. Compared to fall 2018, website traffic was up 19%, school trip reservations booked through the website increased by 37%, and ticket sales were there highest since the farm opened in 1983.
Mannix Marketing is a great team of folks who do excellent work. We get found easily and it is seen in our business as we have grown substantially ever since we started doing business with Mannix.
Chip Ellms, Owner | Ellms Family Farm
Partner with Us Today and See Your Business Thrive Online
Ready to get started or want to learn more about how we work with clients? Let's get it scheduled.