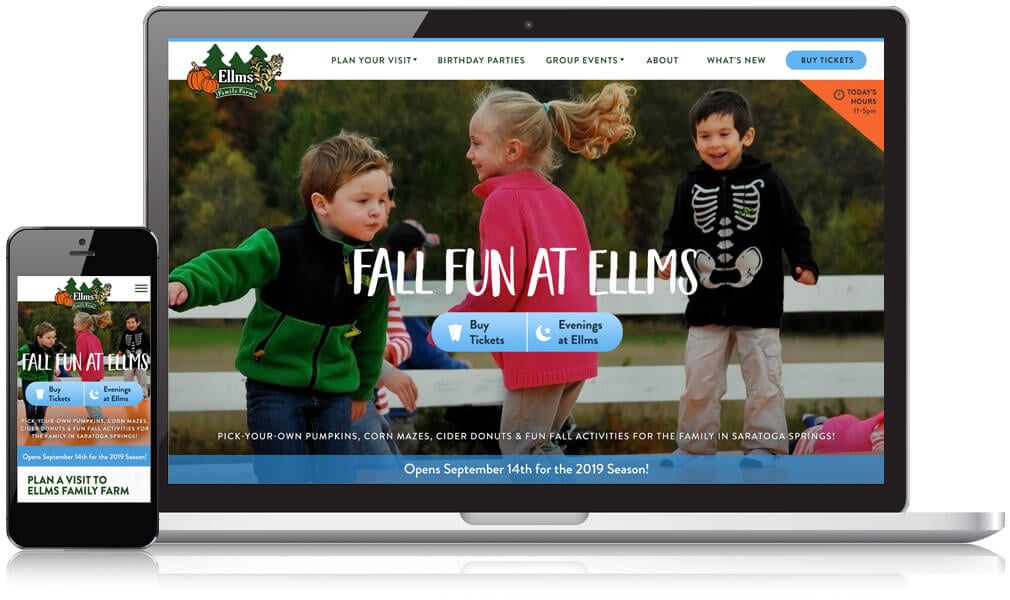 Fall Attraction Has Best Year Ever Following Website Redesign
Ellms Family Farm offers an array of family-friendly attractions and fun fall activities- including hayrides, corn mazes, pumpkin picking, and more- at their family-owned farm near Saratoga Springs, NY. When they contacted Mannix Marketing their goals were to get modern designed attractions website, combine the information about their tree farm with the attractions website, and make it easy for people to book birthday parties and school trips online.
The Results
19% Increase in Overall Website Traffic
17% Increase in Pageviews
37% Increase in School Trip Reservations
Mannix Proposes Mobile-First, User-Friendly Design
Ellms Family Farm is a long-standing client with Mannix Marketing and, as happens with all websites over time, the design of the site had become outdated, and the functionality was no longer as user-friendly as it could be. In order to offer a cleaner, easier to use mobile experience, and provide website visitors with easy-to-find information about hours, tickets and directions to the farm, a website redesign was needed.
During our brainstorming sessions, we focused on website useability, ultimately recommending a mobile-first website design with sticky navigation menus and additional features to highlight hours and closures due to inclement weather. We also proposed an event calendar that would more clearly provide information about upcoming special events, and suggested adding a "What's New" section to help promote and call-out newly added activites for return visitors.
New Website Increases Traffic & Ticket Sales
The new website was launched prior to the opening of the 2019 fall season, and Ellms had their best year yet. Compared to fall 2018, website traffic was up 19%, school trip reservations booked through the website increased by 37%, and ticket sales were there highest since the farm opened in 1983.