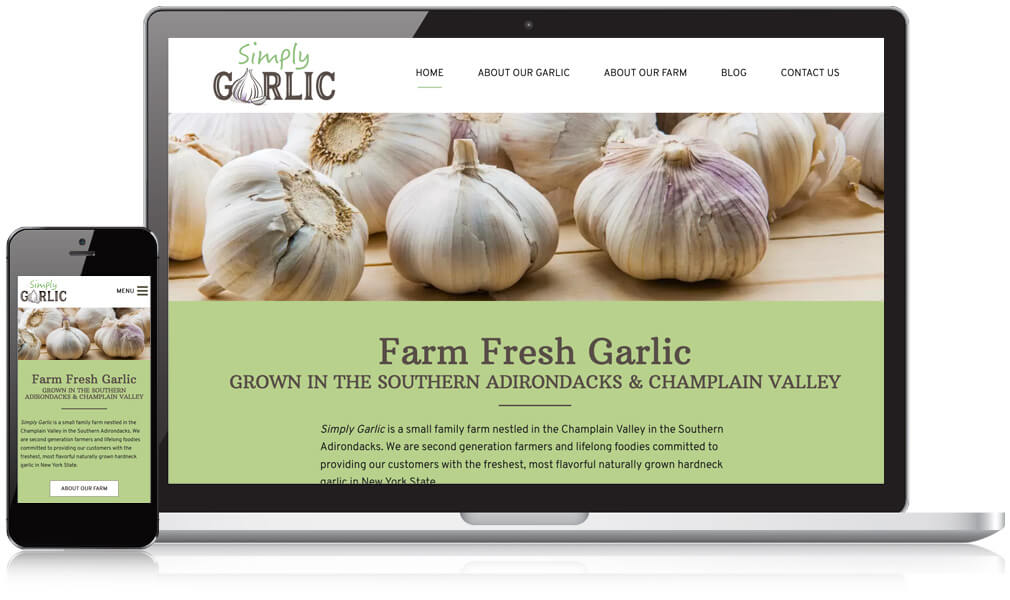 Farm Website Design Showcases a
New World Class Garlic Company
The sweet smell of success is in the air at Simply Garlic, a small family business run by second-generation farmers in the gorgeous Champlain Valley. This fledgling business needed help with a new website build, logo and brand awareness, and introducing their naturally grown products to the digital marketplace.
The Mannix team created a farm website design that was airy and easy to navigate. The site content highlights how the farm is unique because it specializes in growing delicious varieties of garlic. Awareness of this world-class grower's promise to customers related to the purity of their products, health benefits, and regenerative farming practices was also a focus.
The new logo resonated with the owners because it balanced a simple design concept with easy product recognition. The neutral colors and clever use of a head of garlic as a letter give the logo some down-to-earth personality.
Currently, the website is geared toward building brand awareness and educating site visitors on Simply Garlic's variety of products. As the garlic growing season gets underway, Mannix will optimize this agricultural website for e-commerce to jumpstart online sales so the farm can expand its retail reach.