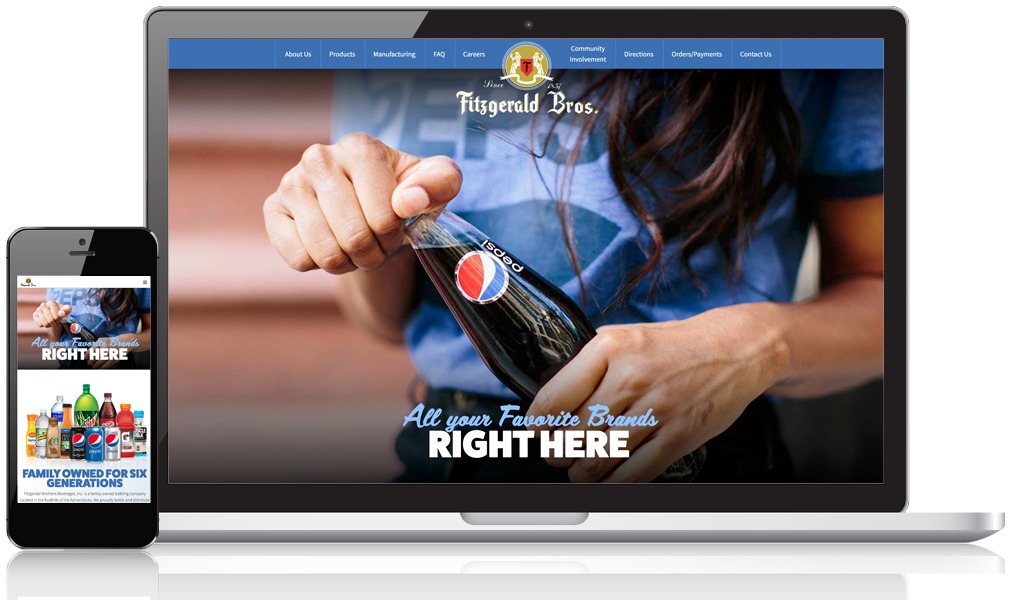 Beverage Distributor Fills Open Positions with Recruitment Marketing Campaign
Fitzgerald Brothers Beverages is a local beverage distributor and full-service beverage vending company serving upstate New York since 1857! They came to Mannix during the pandemic needing to hire urgently for several positions. Our experts quickly put together a comprehensive multi-media recruitment campaign that filled almost all of their open positions!
The Results
4XLower CPC Than Facebook Average
430K+Ad Impressions
4XHigher CTR Than Site Average
First, our team fully revamped the Careers Section of the Fitzgerald Bros. website. Our custom design showcased the business as a company strongly rooted and invested in the community, offering excellent job opportunities and terrific benefits. The Careers Section also included custom code to make it easy to add and remove job descriptions without losing the job information for future use.
Next, our team designed a campaign that utilized a combination of:
Graphic Design

Facebook Ad Campaigns 

Linkedin Ad Campaigns 

Display Ads on GlensFalls.com

Sponsored Editorial Business Spotlight
The Results:
The response was phenomenal! Our social media campaigns for Facebook and LinkedIn had over 330,000 impressions and each had a lower cost-per-click than platform averages. Our display ads on GlensFalls.com received over 100,000 impressions. The ad featured in the sidebar of the sponsored editorial spotlight had a click-through rate 4x higher than the site average. 
By the end of the campaign, they were receiving hundreds of applications and filled almost all their open positions! Since then, they have continued to partner with Mannix for ongoing recruitment campaigns as they continue to grow.
Has COVID-19 changed the way you hire for your small business? Contact us today to learn more about our recruitment marketing services.
During the spring of 2021, Fitzgerald Bros Beverages was in the second year of experiencing unprecedented growth and looking to add several positions to its existing team. In addition to this, the impact from the COVID pandemic had taken its toll on the organization as well, creating both short-term vacancies along with never seen before turnover in a few critical customer service positions. The Company was heading into its busy summer selling season and quickly recognized that we needed to do something different than past recruitment practices. The Company retained the services of Mannix Marketing to address the multiple personnel openings. The Mannix team came to our facility, met with our team, learned about our business, our products, and our personnel needs, and quickly put together a comprehensive 360-degree multi-media recruitment campaign. Almost immediately, the Company was receiving hundreds of applicants for each of the open positions. The Company has now filled almost all of its open positions and continues to use the recruitment campaign for targeted position openings for the new jobs created from its ongoing growth. Fitzgerald Bros Beverages is appreciative of the Mannix's team's professionalism, responsiveness, and marketing knowledge that helped solve the Company's personnel challenges during a very challenging time. Since this initial purpose, the Company has expanded its relationship with Mannix Marketing to assist with a variety of other marketing solutions.
David Petta, Vice President | Fitzgerald Brothers Beverages, Inc.