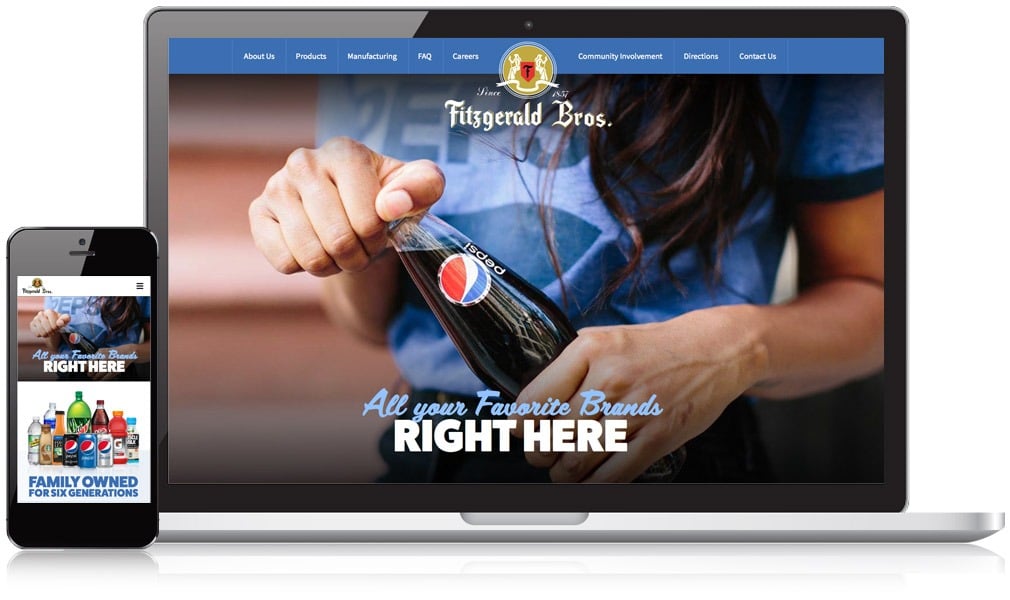 Website Design and Social Media for Beverage Distribution Company
Into their 6th generation of ownership, the Fitzgerald Brothers is a locally famous beverage distributing and full-service beverage vending company. Known as the oldest family-owned business in the Glens Falls area, the Fitzgerald Brothers know what it takes to succeed in business. When it came time to update their website, they partnered with Mannix Marketing for a modern-looking website with more personality and integrated social media marketing tools.
Social Media Audience Reach
Their older website wasn't as fun or youthful as they'd hoped. Yet, they wanted to ensure it still looked professional. We were able to help them achieve a better social media presence into their site. They wanted customers and their customer's customers to engage more. The products they deliver on a large scale still resonate with individuals and Fitzgerald Brothers wanted to build those connections. The site was built with more refreshed and modern color logo combinations.
Fitzgerald Brothers wanted a larger social media presence and although the company is a Glens Falls Beverage Distributor, they knew they could reach an even larger scale due to the products they sell and the customers they serve. The website is more interactive and they committed to resources in-house to support their need for social media work. It was time to look for additional team members and posting those positions on social media was the perfect place to find that audience.
Website Designed for Ease of Use
Mannix worked with Fitzgerald Brothers to ensure the website was clean, clear and user friendly. The site is now easier to update and less complicated to handle. The Fitzgerald Brothers team knows user experience is key for business not only for the external clients but for their internal team as well.
During the spring of 2021, Fitzgerald Bros Beverages was in the second year of experiencing unprecedented growth and looking to add several positions to its existing team. In addition to this, the impact from the COVID pandemic had taken its toll on the organization as well, creating both short-term vacancies along with never seen before turnover in a few critical customer service positions. The Company was heading into its busy summer selling season and quickly recognized that we needed to do something different than past recruitment practices. The Company retained the services of Mannix Marketing to address the multiple personnel openings. The Mannix team came to our facility, met with our team, learned about our business, our products, and our personnel needs, and quickly put together a comprehensive 360-degree multi-media recruitment campaign. Almost immediately, the Company was receiving hundreds of applicants for each of the open positions. The Company has now filled almost all of its open positions and continues to use the recruitment campaign for targeted position openings for the new jobs created from its ongoing growth. Fitzgerald Bros Beverages is appreciative of the Mannix's team's professionalism, responsiveness, and marketing knowledge that helped solve the Company's personnel challenges during a very challenging time. Since this initial purpose, the Company has expanded its relationship with Mannix Marketing to assist with a variety of other marketing solutions.
David Petta, Vice President | Fitzgerald Brothers Beverages, Inc.