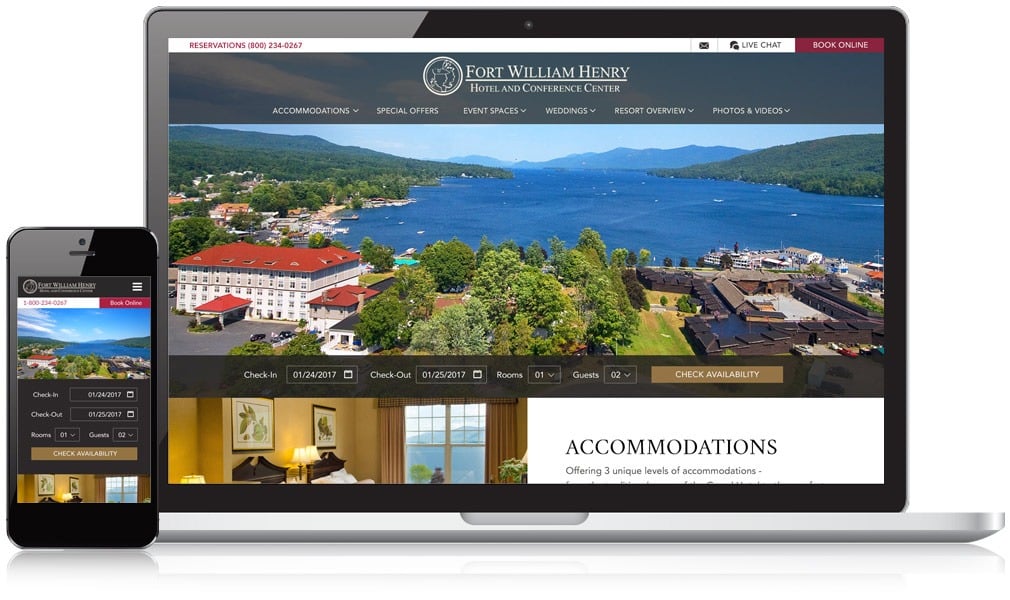 Resort has Record Breaking Revenue after New Website is Launched!
Fort William Henry Resort & Conference Center needed an online destination that informed visitors of all they have to offer. From a hotel stay to large scale events, this conference center is able to meet any customer's needs. Prior to the redesign and SEO program, the site was suffering, year over year visits to the site were down 12% and page views were down 16%. After the new site was launched, traffic increases year over year 53% and pages per session increased 42% and the hotel reported a record breaking year.
The Results
1Record Breaking Year
53%More Site Traffic
42%More Page Views
After the new website launched, Fort William Henry also engaged in an SEO program. Through careful optimization, an increase in relevant website content and regular attention to key performance indicators, the Mannix Marketing team was able to both maintain and increase current placements. This 6-month program allowed for ongoing, long-term results across a number of key areas — an important factor for a client who strives to thrive year-round in a primarily seasonal lodging market.
A 6-month plan including basic SEO practices and the introduction of new content was the basis for this project.
With a national and regional economic downturn that is affecting the hospitality industry as a whole, the traffic results for Fort William Henry highlight the importance of continued optimization.