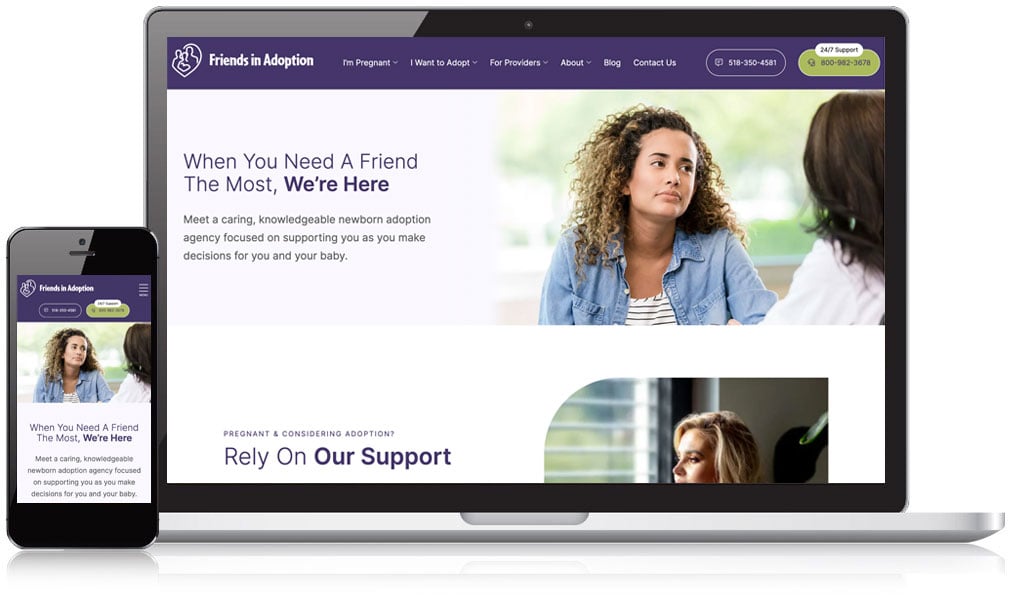 Nonprofit Website Design & Digital Marketing Brought About a 71% Increase in Leads
Friends in Adoption is a nonprofit, pro-choice, newborn adoption agency focused on helping people make informed decisions concerning adoption. Their mission is to focus on the needs of each child and to provide compassionate adoption services for the unique individuals involved in the adoption process. The nonprofit partnered with Mannix Marketing after a decline in organic visibility. They wanted to increase organic traffic and help more pregnant individuals considering adoption. Mannix created a custom SEO and PPC program, and engaged in a thoughtful website design for their nonprofit.
The Results
71% Increase in Leads
82% Increase in Conversion Rate
13% Increase in Traffic
The SEO program's goal was to address foundational and technical issues with the website, create helpful new content, and drive meaningful traffic to the site. The PPC program focused on highlighting individual families to pregnant individuals considering adoption.
After addressing foundational issues with the site it was agreed that the website had user experience issues such as an outdated design, poor page speed, bloated navigation, and complicated conversion process. A new website design for the nonprofit was developed to address these issues. The design uses warm and friendly colors that matches the warm and friendly nature of the staff. The sitemap was paired down and reorganized so that important information was easier to find. Special programming was added so that adoption profiles randomly generated on each load, that way no one family was given more visibility than another.
The results from the combination of these efforts were profound. The client started out not ranking on page 1 for any of their targeted keywords. That has grown to 39 keywords on page 1. That number is consistently growing.  Traffic has been readjusted to eliminate spam and incorrect/irrelevant audiences and grow traffic from relevant audiences. As a result overall traffic as increased by 13%, and conversion rates increased from 1.61% to a strong 3.48%.
Website Redesign Wins Summit Creative Award
Mannix Marketing took home the Bronze Award for "Non-Profit Website" in the Summit Creative Awards 2023 competition for their work on Friends In Adoption's new website. The Summit Creative Awards is an international advertising competition that celebrates and rewards the work of small and medium-sized agencies. Entries are judged blindly by an esteemed panel of industry judges for strength of concept, quality of execution, and ability to persuade.