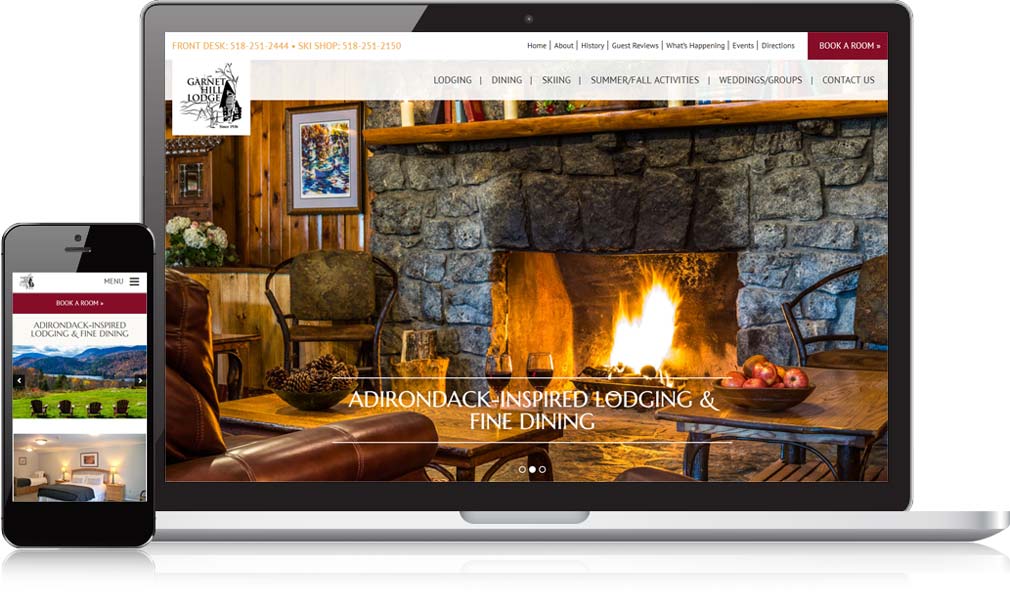 Responsive Website Resign for Unique Adirondack Lodging Property
Set in the Adirondacks, Garnet Hill Lodge is known for their amazing cross country ski trails and beautiful setting in the Adirondacks. They offer lodging, gourmet dining and comfort foods, skiing, hiking and array of on-site activities.
The Results
6% Increase in Organic Search Traffic
13% More Pages Per Session
11% Decrease in Bounce Rate
The new website was designed to showcase the beauty of the resort and give the management an easy-to-use content management system so that they could keep the site fresh and up-to-date to reflect the majesty of the resort in all seasons. After launching the website, when most lodging properties in the region were showing a 10% decline in search traffic, the lodge had a 6% increase in organic search traffic, visitors loved the new site and spent more time on more pages and spent more time on the website. Bounce rate went down – that means more people stayed on the site after arriving on it than in the past. Improved server management eliminated traffic from Russia which was skewing analytics.  Based on initial three months post launch the organic search traffic increased 45%!