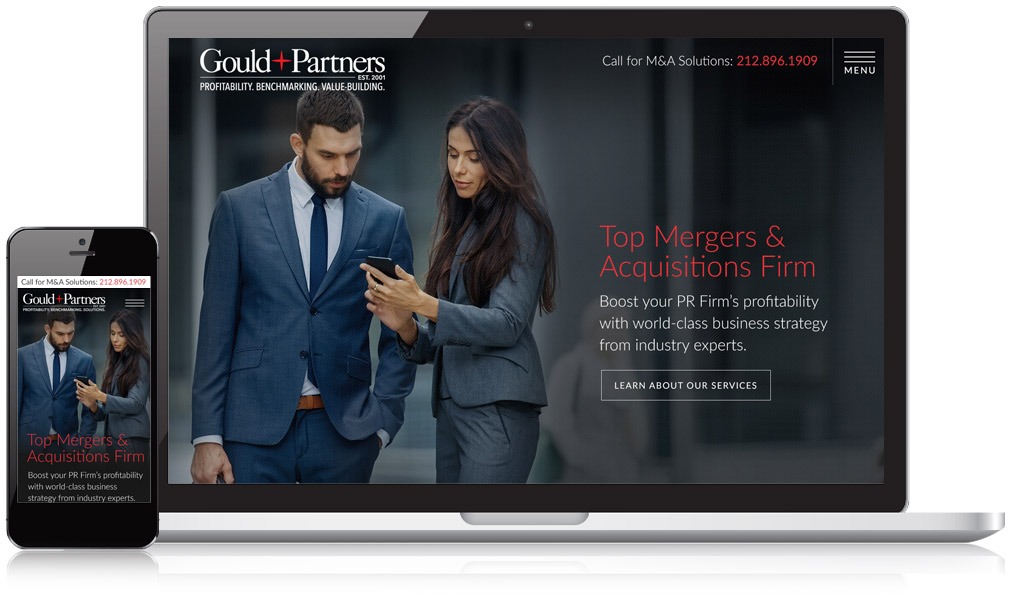 PR Consulting Firm Sees Leap in Conversions After Website Redesign
For over 30 years, Gould+Partners has been a trusted name in the public relations industry. Their specialized knowledge and level of expertise in Mergers and Acquisitions is unparalleled. However, their website was outdated and did not reflect the company's specific marketing goals. Their website's navigation, messaging and graphic layouts needed modernization.
The Results
2x Increase in Conversions
65% Increase in Leads
2x Increase in Traffic from Google My Business
The goal for the new website was to completely modernize the look and feel of the Gould + Partners website. The immediate call-out on the homepage is "Top Mergers & Acquisitions Firm" with a link to call for advisory services. The objective was to make it easy for anyone to know the specific expertise G+P possesses.
In addition, it was important for the site to be easily editable to add new resources, case studies and content for the staff.
With this uncluttered and modern design, the new site has double the conversion rates as its predecessor.
Unlike the prior website, the redesign's tailored approach to laser target its marketing message proved to be hugely successful in increasing visibility and new business for Gould + Partners.