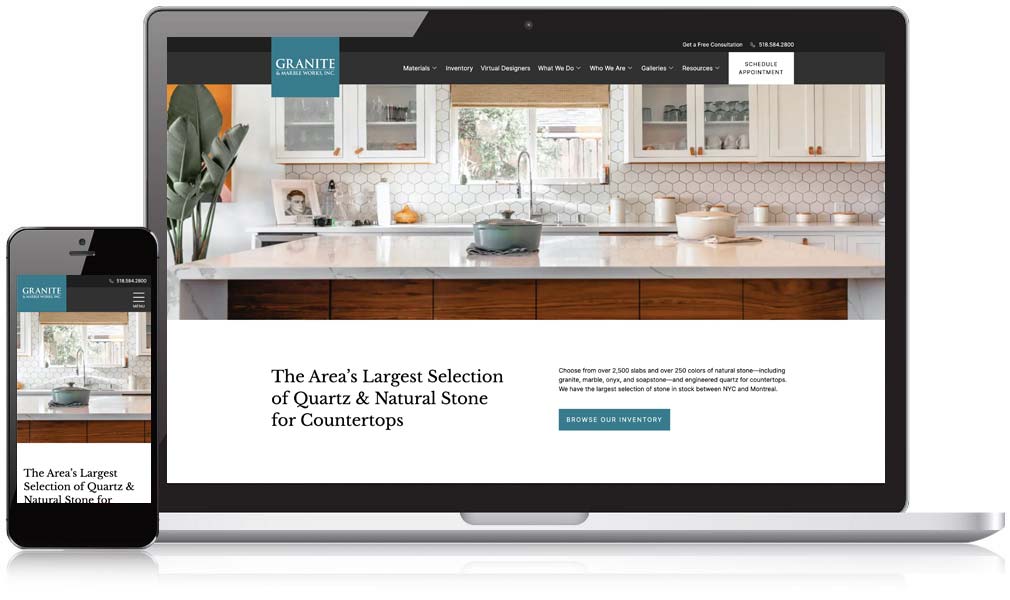 Granite and Marbleworks New Website Increases Traffic and Business
Businesses thrive when they are willing to quickly change when the business climate changes.  Granite and Marble Works in Saratoga Springs is an example of a retail business that saw the opportunity to invest in their website after Covid hit in early 2020 to evolve to better fit the needs of online shoppers. The first few months that the site launched traffic increased 70% due to the popularity of home renovations during covid and the site improvements.  The site continues over time to show a steady 15% increase in overall site visits.. As their business changed, they updated the site with a fresh look in launched summer of 2023.
The Results
15% increase in website traffic
18% increase in page views
13% increase in engagement
Granite and Marble Works imports and fabricates the finest natural stone from around the world.  The site was redesigned to allow potential buyers to easily browse their inventory of natural stone from home.  The inventory page is now the top viewed page on the site after the home page.
The original site was text-heavy and information was hard to find, the site copy was audited and edited, and visuals were elevated to portray the upscale image of the company itself. The new design lowered the bounce rate (or those leaving without taking action) by 13%.
As is true for all Mannix Marketing websites, the site was built with the fundamentals of SEO which increased both page visits and page views. The site was also built to meet within reason the  WCAG 2.1 AA code standards for ADA compliance.
The Mannix team did an awesome job helping us redesign and relaunch our website. It is more user friendly and streamlined — and it reflects who we are as a company. The folks we worked with from start to finish were professional, timely, helpful and creative. They are great listeners and collaborators. The training they provided our staff means that we can update our website as needed, keeping it modern, fresh and current. This company has been around for over 25 years and their experience shows. There are plenty of folks who do what they do — but there isn't anyone better. We are happy to consider them a partner in our company's success.
|