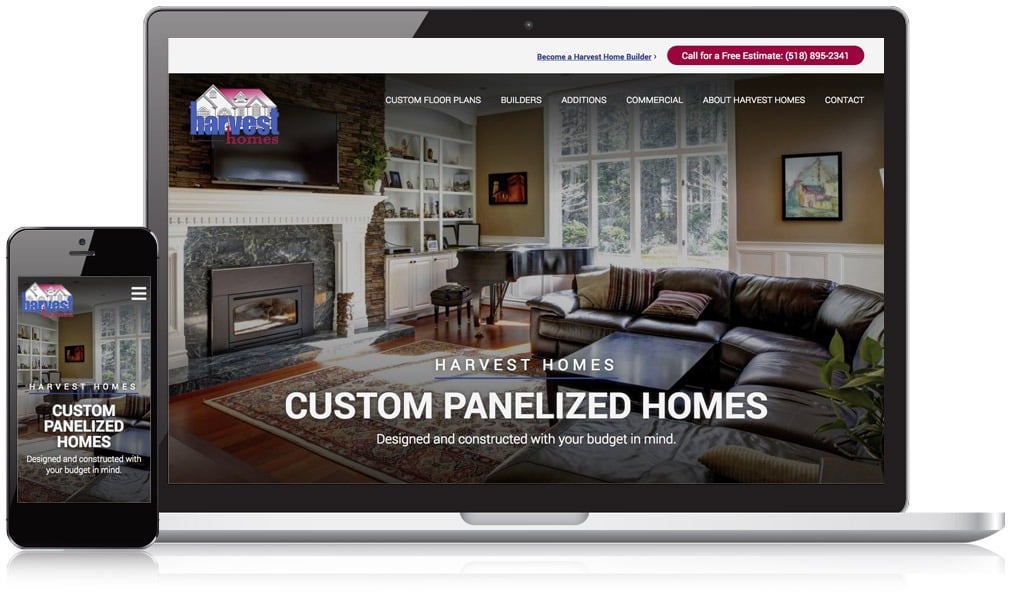 SEO and Local Online Advertising helps Custom Home Builder Get Found, Get Inquiries, and Sell Homes
Harvest Homes builds custom, energy efficient, panelized homes, which are sold through a network of independent dealers throughout the Northeast. Before contacting Mannix Marketing for professional SEO services, Harvest Homes was getting just 2-3 calls per month. The challenge they faced was getting found by prospective home buyers who were searching online for energy efficient, panelized homes.
The Results
27% Increase in Traffic
30% Increase in Organic search traffic
4x Jump in phone inquiries per week
With the help of SEO and local online advertising, Harvest Homes started receiving 2-3 phone inquiries per week. And not long after we began the digital marketing program, Harvest Homes had already sold a new house through the website- which meant that the website already paid for itself!
With customer testimonials, photo galleries, and educational content added throughout the site, the new website has become a valuable resource for home buyers. In addition to performing technical SEO to help search engines better understand the website, we also applied local SEO techniques to help Harvest Homes get found by prospective customers searching for custom panelized homes in specific geographic markets, such as New York, Connecticut, Massachusetts, New Hampshire, Vermont, Pennsylvania, and Rhode Island.
Because Harvest Homes are sold through independent dealers based on the prospective customer's location, we made it easier for visitors to find location-specific dealers through the website by creating 50 informational, SEO friendly dealer pages. Finally, the creation of inbound links to HarvestHomes.com from local websites in their geographic markets helped attract more qualified visitors to the website.