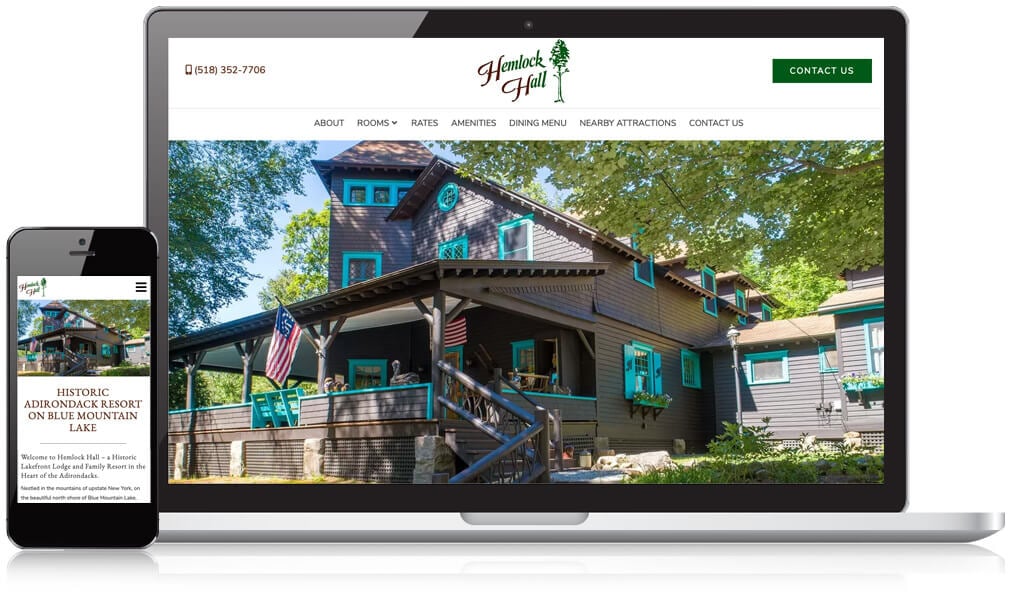 Resort Web Design Sheds New Light On A Historic Adirondack Lodge
Since 1948, Hemlock Hall has welcomed guests who come to enjoy the serenity of Blue Mountain Lake in the Adirondacks. Reconnecting with family and friends at the Inn is easy — there are no telephones, TVs or radios in guest rooms and only limited WIFI in the main lodge.
To better market this beautiful, tech-free oasis, Hemlock Hall turned to the digital marketing experts at Mannix Marketing (the irony isn't lost on us). The initial focus was on a complete website upgrade that would showcase the Inn's gorgeous rooms, lakeside views, and home-style amenities.
A photoshoot was scheduled to capture the perfect images Hemlock Hall offers and these visuals were incorporated throughout the website to enhance strong calls to action aimed at increasing bookings. A clean, uncluttered look made for simple navigation, and a Nearby Attractions section was added to give potential guests some ideas on how to spend time during their stay.
The owners are thrilled with the final result and are sure the telephones, at least the ones in the main lodge, will be ringing with calls for reservations all season.